Primary Media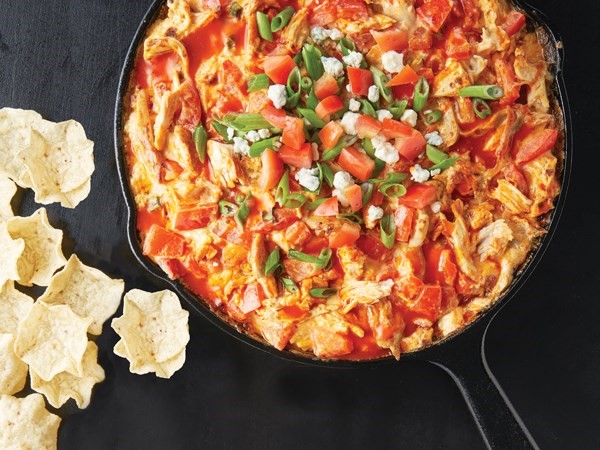 Description
When you can't make it to the actual game for an authentic tailgating experience, these are the type of recipes that remind you why, sometimes, it's not so bad to kick back and homegate. 
Homemade Hummus

It's the dip you don't know how much you love until it's put in front of your face. And it's super simple to blend up a batch ... or three. 

Chipotle Turkey Sliders

Rather than serving full-blown burgers at your homegate, put out a tray of lighter turkey sliders. Usually, there's more than enough sides to round things out. 

Better-for-You Boneless Chicken Bites

These deliciously juicy chicken bites are reason enough to get an Air Fryer. 

Buffalo-Seasoned Oyster Crackers

You know when you buy a giant bag of oyster crackers and people sprinkle maybe 3 or 4 on their chili, leaving you with gobs of mini crackers to use up? If you can relate, this recipe's for you.

Three-Cheese Buffalo Chicken Dip

Because it's game day and you want something to balance out the healthy homemade hummus.

Ham and Cheese Pull-Apart Sliders

It's all about the Hawaiian-style rolls for these ooey-gooey, melty pull-aparts. 

Fan Fare Football Chili

It takes about 5 minutes to get everything going for this chili. Not bad for a meal that serves 10.

PB & J Sticky Wings

We have a ton of recipes for wings, but none like this. We were split on which flavor was better, the soy sauce-peanut butter wings or the spicy jam wings. So you can be the judge.

Champion Chicken Chili

It's nice to have chili options. 

Classic Blood Mary

For those early games, we like this simple 2-ingredient Bloody Mary decked out with whatever garnishes you like: cheese, cured meat, celery, pickled things, etc.

Caramel-Pecan Brownies

Depending on how much you like your friends, you can bust out one of our favorite brownies to share. 

BBQ Chicken Pull-Apart Pizza

It's the kind of recipe that looks complicated, but check it out. It's super simple to make. It's essentially stuffing a loaf of bakery bread with cheese, chicken and sauce.

Shortcut Pizza Wedges

With 5 ingredients in the kitchen, you can dig into this in less than 30 minutes. 

Sheet Pan Grilled Cheeses

You can make grilled cheeses for a crowd without having to be a short order cook. Just trust in the sheet pan method.