Primary Media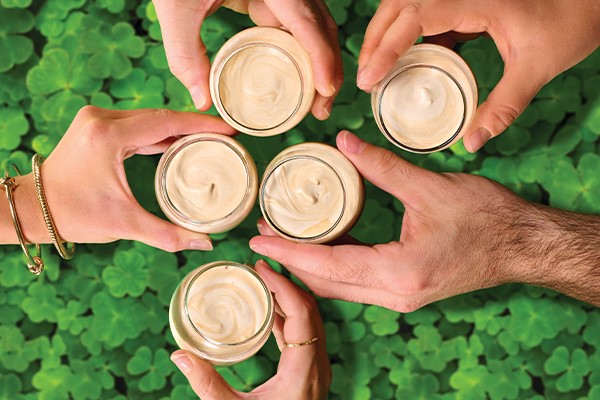 Description
Although the origins of Irish beer are believed to be rooted in the Bronze Age, Irish whiskey is a relative newcomer, arriving in the 12th century after monks brought back a perfume distilling technique from Europe. Much later, in the 1940s, Irish coffee was first offered to air travelers waiting out a weather delay in Ireland. The recipe, later perfected in the U.S., includes black coffee, Irish whiskey, and brown sugar. Don't forget the whipped cream! It's always dolloped on top and never mixed in.
No matter what your history is with Irish cocktails, it's not St. Patrick's Day without one. Celebrate in style with these on-theme drinks!
Mint Mocha with Cold Foam

A minty fresh take on a classic Irish coffee. Make it a cocktail by mixing in peppermint schnapps for the mint extract.

Baby Irish Coffee Shots

These cute cocktails look like mini Guinness beers but are made with Kahlua and Bailey's Irish Cream liqueur.

Shamrock Fish Bowl Punch

Make 12 servings of this apple and melon-flavored cocktail in a large punch bowl. And don't skip the shamrock garnishes!

Green Bloody Mary

Can you think of a better way to celebrate St. Patrick's Day than with this Green Bloody Mary?

Irish Blonde

This on-theme orange-flavored cocktail is all you need to celebrate St. Patrick's day.

Creamy Irish Stout Cocktail

Enjoy St. Patrick's day with this dessert cocktail featuring Guinness and Jameson.

Jack Daniel's Orange and Raspberry Cocktail

Raspberry liqueur gives a unique twist to a classic whiskey sour.

Whisky Sunset

Tequila, who? Just a few simple ingredients and you're on your way to a delicious cocktail.

Irish Pride

This Irish cocktail shows its pride by adding green creme de menthe.

Whiskey Soda

This whiskey soda has a dash of raspberry liqueur to make it extra-special. Garnish with fresh raspberries and some rosemary for extra flair.

Finagren's Irish Coffee

Add a cinnamony twist to your Irish iced coffee by using Rumchata instead of Irish cream. 

Pot of Gold

This drink really is the pot of gold at the end of the St. Patrick's Day rainbow. 

Irish Mojito

Finagren's Irish whiskey has hints of toffee and pear, which compliment the lime juice and fresh mint in this Irish Mojito. 

Whiskey Orange Juice Sour

Whiskey plus orange juice mixed with a lemon-lime base punch is a surprisingly delicious combination.

Leprechaun

Get into the St. Patrick's Day spirit with this cocktail.

Whiskey and Orange

Fresh oranges, whiskey, and Grand Marnier pair perfectly in this fresh cocktail.

Vodka Irish Coffee

Just in case whiskey isn't your thing, you can still enjoy this Irish-inspired spiked coffee on St. Patrick's Day.

Whiskey Blackberry Cocktail

Whiskey and fresh blackberries. You've never tasted anything so refreshing.