Living
17 Hy-Vee Brands to Help You Save on Groceries
Primary Media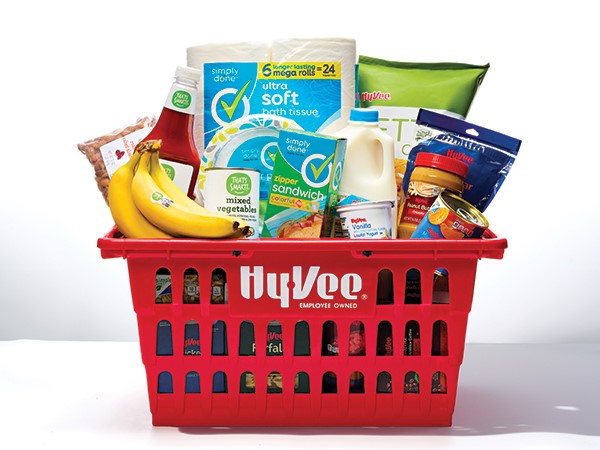 Description
Hy-Vee is home to an incredible selection of products that can help make life easier, more affordable, and extra delicious. Find these items at your local store, or shop now on Aisles Online.
Basket & Bushel

When it comes to fresh produce, time is of the essence. Basket & Bushel grows and harvests a variety of fruits and vegetables that are picked at peak freshness and delivered straight to Hy Vee. Enjoy a bounty of sweet berries, pre-cut vegetables, tomatoes, potatoes, and more.

Beaconsfield Bread Co.

Named after the location of the first Hy-Vee store, Beaconsfield artisan bread stacks up to the competition when it comes to fresh flavor and texture. Try soft, chewy slices of varieties like sourdough, 100% whole wheat and 12 grain for sandwiches, or cinnamon raisin swirl for something sweet.

Crav'n Flavor

Satisfy almost any craving with sweet and savory fare at affordable prices. The irresistible line of entrées and snacks from Crav'n Flavor has something for everyone: frozen pizza, potato chips, cookies, and much more.

Culinary Tours

Send your tastebuds on an international adventure with globally inspired cuisine from Culinary Tours. Discover flavors from around the world in deli meats and cheeses, seasoning, sauces, salsa, frozen treats, and other snacks.

Good Graces

This line of affordable gluten-free products makes it easy to stick to your diet and budget. Only at Hy-Vee will you find Good Graces pantry staples like pasta and granola, entrées such as pizza and chicken nuggets, or snacks like pretzels and white Cheddar puffs.

Gustare Vita

You don't have to cross the ocean for original Italian fare. Gustare Vita products are made by families in Italy using traditional methods and natural ingredients for authentic flavor.

Ice Cream

It's Your Churn: Sold exclusively at Hy-Vee, It's Your Churn boasts nearly 30 flavors of premium ice cream made with high-quality ingredients. Flavors include Chocolate Banana Peanut Butter Swirl, Extreme! Moose Tracks, and more.

Overjoy: Guilt-free ice cream has never tasted so sweet. Sensational flavors like S'mores, Sea Salt Caramel, Chocolate Peanut Butter, and Mint Chip have up to 67% fewer calories and 83% less fat than regular ice cream.

Til the Cows Come Home: Sink your spoon into more than a dozen premium flavors with a variety of mix-ins and names as memorable as the flavors: A Kick in the Peanut Butter; Espresso Yourself; Dough-Mo Arigato, Mr. Roboto; Say Cheese, Cheesecake; and more only at Hy-Vee.

Meat & Seafood

Angus Reserve: Lean and affordable, Angus Reserve beef has less marbling than Prime or Choice selections but still provides great flavor at an affordable price.

Choice Reserve: Cuts with the Choice Reserve logo are well-marbled for a tender texture and high-quality flavor. Only six out of 100 cattle meet Hy-Vee's stringent standards for Choice Reserve.

Prime Reserve: Steaks at Hy-Vee come from cornfed cattle raised on Midwest farms, and those with the Prime Reserve logo are the best of the best. Cuts of this caliber boast superior marbling—white streaks of fat throughout the cut that impart remarkable flavor and buttery texture.

Hy-Vee Fish Market Seafood: Seafood from Hy-Vee Fish Market offers the best flavor and tenderness. You can shop with confidence knowing the seafood you're buying tastes great and was caught using responsible methods. In 2017, Hy-Vee became the first Midwest retailer to source 100% of its seafood offerings from environmentally friendly sources. The Responsible Choice logo on all fresh and frozen seafood at Hy-Vee signifies it was harvested in a sustainable manner to protect habitats and seafood populations.

Hy-Vee True: At the Hy-Vee Meat Department, what you see is truly what you get. Chicken, beef, and pork bearing the Hy-Vee True label are raised on Midwest family farms and are free of artificial ingredients, preservatives, and antibiotics.

Value Brands

Hy-Vee Brand: Customers have come to expect the best in variety, quality, and value from Hy-Vee. That's why Hy-Vee brand products throughout the store are affordably priced and made with you and your family in mind. Stock up on all your must-have grocery items, like yogurt, cheese, bread, frozen berries, coffee, chips, frozen vegetables, hummus, orange juice, and more.

Simply Done: Get a grip on (almost) all of life's spills, splashes, and messes with Simply Done. All Simply Done products are made with the same quality as national brands, but at prices that won't break the bank. Find a range of cleaning supplies like sponges and all-purpose spray, plus kitchen basics such as paper plates and storage containers.

That's Smart!: Looking for budget-friendly food and household essentials? That's Smart! is a no-brainer. Find hundreds of That's Smart! products at Hy-Vee, including baking ingredients and kitchen staples like canned fruit, peanut butter, condiments, cottage cheese, eggs, and other groceries—all at a great value.