Primary Media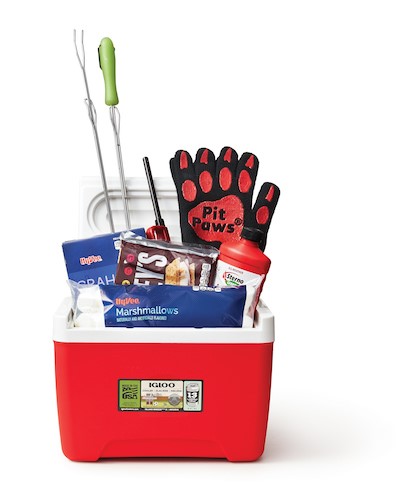 Description
Shopping for Dad is tough. Need a little inspo? Check out these cute and clever Father's Day gift ideas from Hy-Vee.
Fortunate for Dad

We see good food and drinks in Dad's future. Pick up the fixings for his favorite signature cocktail and a gift card for some HyChi. 

The Coolest S'mores Gift Ever

Make more memories by making more s'mores. Fill an empty cooler with all the makings of this iconic campfire treat. 

Movie Night In

Spend some quality time with Dad and all your favorite movie snacks. He'll appreciate not having to pay theater prices for popcorn. 

For the Cocktail Connoisseur

Raise your glass to Dad. Our Hy-Vee Wine & Spirits experts are happy to offer recommendations for a Father's Day celebration.

Latte Love

If he's a coffee drinker, you can't go wrong with this clever message and gift.

Chacuterie Bouquet

He might not buy it for himself, but we promise he'll like it. Your Hy-Vee cheese specialist can help you find a combination of meats and cheeses that work with any budget.

Big Winners

Give Dad the chance to hit the jackpot with a lucky lotto arrangement. Because who knows? ... And maybe he'll share.

Cooking Together

What's Dad's favorite pizza? Pick up all the go-to toppings and cheeses and spend some time together in the kitchen.

Steak Lovers

What would he order in a steakhouse? Ribeye or New York Strip? Pick up Dad's favorite cuts ... and some new steak knives, and get grilling.

Go Fish

For the fisherman with a sweet tooth, it's hard no to love this sweet tackle box.