Primary Media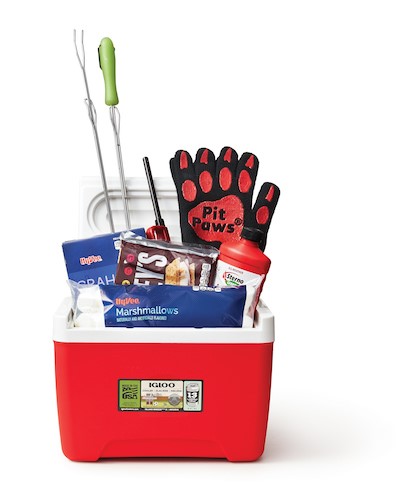 Description
Shopping for Dad doesn't have to be tough! Check out these cute and clever DIY Father's Day gift ideas you can get at your local Hy-Vee or on Aisles Online.
Also be sure to check out our ready-made Father's Day gift baskets for delivery or pickup. 
Fortunate for Dad

We see good food and drinks in Dad's future. Pick up the fixings for his favorite signature cocktail and a gift card for some HyChi.

Or get HyChi via Mealtime To Go, and we'll bring your order for Dad right out to your car!

The Coolest S'mores Gift Ever

Make more memories by making more s'mores. Fill an empty cooler with all the makings of this iconic campfire treat. 

Shop now:

Movie Night In

Spend some quality time with Dad and all your favorite movie snacks. He'll appreciate not having to pay theater prices for popcorn. 

Shop now:

 

Cocktail Connoisseur

Raise your glass to Dad. Our Hy-Vee Wine & Spirits experts are happy to offer recommendations for a Father's Day celebration.

Shop now:

Latte Love

If he's a coffee drinker, you can't go wrong with this clever message and gift.

Shop now:

Chacuterie Bouquet

He might not buy it for himself, but we promise he'll like it. Your Hy-Vee cheese specialist can help you find a combination of meats and cheeses that work with any budget.

Big Winners

Give Dad the chance to hit the jackpot with a lucky lotto arrangement. Because who knows? ... And maybe he'll share.

Cooking Together

What's Dad's favorite pizza? Pick up all the go-to toppings and cheeses and spend some time together in the kitchen.

Shop now:

Steak Lovers

What would he order in a steakhouse? Ribeye or New York Strip? Pick up Dad's favorite cuts, along with some new steak knives, and get grilling.

Shop now:

King of the Grill

Speaking of grilling, make sure your dad has all the tools he'll need for the summer!

BONUS: Shop Hy-Vee's meat bundles to get a variety of grilling meats in one convenient package.

Go Fish

For the fisherman with a sweet tooth, it's hard no to love this sweet tackle box.

Shop now:

Shaving Face

Assemble a shaving kit filled with the essentials like shaving cream and a razor, plus extras like cool, soothing aftershave.

Shop now:

Self-Care for Dad

Dads need time to themselves too! Make it easier with a gift focused on self-care.

Shop now:

Gift Cards Galore

Hy-Vee carries dozens of gift cards for restaurants, retail stores, and more. Choose your dad's favorite and tuck it inside a funny card.

Better yet, get him a Hy-Vee Plus membership so he can get free grocery delivery, additional Fuel Saver opportunities, and many more exclusive offers each month!