Primary Media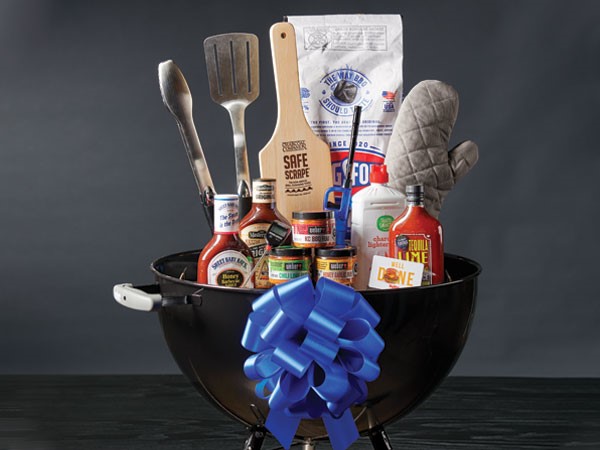 Description
Dad might have said "Don't get me anything," but he'll have a hard time saying "no" to these gifts from Hy-Vee. We've got grilling and grooming utensils and games and tools to work on his favorite part of the house: his yard! Find the perfect DIY basket and head to Hy-Vee to pick up all the essentials or order on Aisles Online for delivery or pickup!
Also be sure to check out our collection of ready-made Father's Day gift baskets for delivery or pickup.
The Grill Master Basket

The man who can grill anything needs accessories to match! From grills and utensils to sauces and rubs, Hy-Vee is your local one-stop-shop for everything barbecue related.

The Backyard Basket

For the dad who doesn't let anyone leave the badminton court until he wins. Fill a cooler with everything he needs for the ultimate backyard party. We're talking bug spray, yard games, folding chairs, and more.

The Snack Basket

Filled with candy, jerky, and snack nuts. We guarantee he'll enjoy it, but we can't guarantee he'll share.

The Green Thumb Basket

Complete with the tools and products necessary to make the yard and garden worth of a "Stay Off The Lawn" sign.

The Mix and Match Beer Basket

Let the good times flow! Celebrate the day with cold refreshing beverages and his favorite card games.

The Spiked Coffee Basket

Drinks for dad to enjoy morning, night, or even throughout the day. It is his day after all...

Additional Basket Stuffers

Almond Soap and Bamboo-Charcoal Soap with Brush leaves skin fresh and clean with soothing scents.
GOT2B Phenomenal Molding Paste for stylish hair every day of the week.
Duke Cannon Bloody Knuckles Hand Repair Balm moisturizes dry cracked hands.
Two Left Feet Socks keep toes toasty during chilly lake mornings.
Every Man Jack Hydrating Beard Oil conditions facial hair and moisturizes skin.
Harry's Truman Razor textured handle for total control.
Broo Craft Beer Thickening Shampoo volume-boosting ingredients with notes of orange, grapefruit, and vanilla cream.
Wahl Haircut and Beard Cordless Clippers a hassle-free tool for easy hair care.
Sip by S'Well 15-oz. Water Bottle keeps drinks cold for up to 24 hours.
Basin Face Scrub Hydrates skin and removes impurities.
Duke Cannon Cannon Balm Tactical Lip Protectant organic ingredients stave off UV rays and repair damaged lips.
Bulldog Original Moisturizer aloe vera, camelina oil, and green tea hydrate skin without leaving a greasy residue.
Olivina Men Aluminum Deodorant bourbon cedar scent features lemon, lavender, and more.
Basin Shave Cream blended with aloe vera to repair skin and prevent nicks.