Primary Media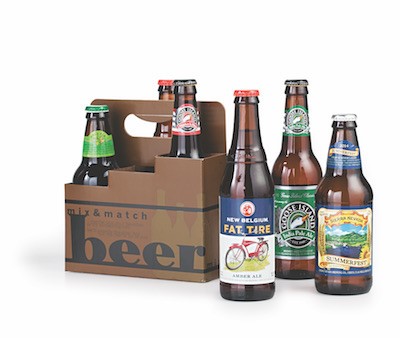 Description
Let these descriptions help you pick the perfect beer to share with your dad on Father's Day. And be sure to check out our Beer Styles Guide for even more delicious options. Here's to all the dads and the fine brews we like to share with them!
Boulevard Pale Ale

If your dad is the mediator of the family, he'll enjoy this smooth and well-balanced choice that's perfect for anyone that enjoys a good beer with their burger. A variety of caramel malts adds a rich flavor that's complemented by liberal hops for zest and aroma.

New Belgium Fat Tire

If your dad likes long bike rides, he'll roll with this amber ale, conceived by the brewery's founder as he biked through Europe seeking inspiration to make his own beer.

Goose Island 312

If your dad would rather watch a classic movie than reality TV, he's sure to appreciate this classic, easy-drinking wheat beer with Chicago lineage.

Deschutes Black Butte Porter

If you have to hide the sweets from Dad, he'll love the espresso and chocolate notes of this rich and layered beer. While full of flavor, it's still easy to drink, and goes exceptionally well with red meat (and also chocolate cupcakes).

Sierra Nevada Pale Ale

If your dad likes to commune with nature, he's a match for the piney and grapefruit aromas from whole-cone American hops that make this beer one to reach for again and again. Because of its spicy full body, it's a great match for grilled steak, curry, or roasted veggies.

Singlespeed Tip the Cow

If your dad is the type to get all philosophical around the campfire, he needs a beer with real fortitude to see him through, like this rich and creamy cocoa espresso milk stout.

Iowa Eagle

If your dad's idea of yard work is setting up a hammock, he knows a little something about relaxation and will dig the laidback attitude of this traditional American lager.

Grain Belt Nordeast

If dad still debates the designated hitter rule, he may like to take a swing at a Minnesota brew lots of dads grew up with, now with the light maltiness and soft hop bitterness of amber lager.

Toppling Goliath Pseudo Sue

If your dad continually flips channels between two games on TV, he's an explorer and will enjoy investigating the mild bitterness of this hoppy Iowa pale ale.

Lake Time Oreo Speedwagon

If dad cooks a meal and does the dishes afterwards, he is definitely a sweetheart and deserves an equally sweet Iowa stout with a flavor that calls to mind delicious cookies.

Brewdog Punk AF

If your dad balances his intake of superhero movies with a few rom-coms, he's flexible enough to go for this juicy non-alcoholic pale ale from Ohio with just 37 calories.

Natural Light Naturdays

If your dad thinks pop music died with disco, he's confident in his taste (no matter what anyone says). He'll love this strawberry-lemonade beer dancing around his tastebuds.

The Backup Plan

If your dad is a complete enigma, check out the Mix & Match aisle and build your own crafty 6-pack.