Primary Media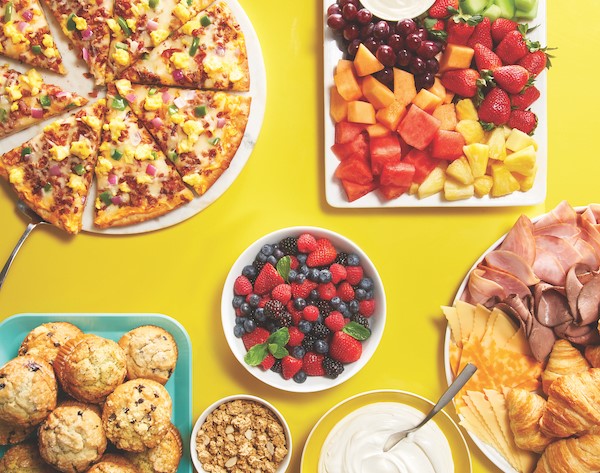 Description
Build your own at-home brunch, with a lot less cooking. These grab-and-go breakfast items from Hy-Vee make it easy for you to customize the size and offerings for a simple and delicious Mother's Day brunch.
Or, check out our selection of Mother's Day meal kits. Order one for pickup, then just heat and eat.
Breakfast Pizza

The beauty of the Take-and-Bake Breakfast Pizza is that it's ready whenever you are. Plus, leftovers are equally delicious for dinner. Choose from the sausage or bacon options.

Croissant Sammies

Pick up one of the fresh, ready-made to-go appetizer trays for the family. Or create your own charcuterie board with an assortment of world-class artisan cheeses and meats, along with accompaniments like jams, crackers, and more.

Fruit Trays

Pick up a pre-made fruit tray to save yourself the hassle of rinsing and prepping. If you think it might be too much fruit, look for the Hy-Vee Short Cuts fruit and berry options in the produce department.

Bakery Muffins

Not just any muffins, the Hy-Vee Bakery Muffins are jumbo and fully loaded with mix-ins and bright flavors. Choose from lemon-poppyseed, apple spice, double-Dutch, and chocolate chip.

Strawberry Pie

If ever there was a day for Mom to eat pie for breakfast, it should be Mother's Day. Enjoy this seasonal strawberry pie from the Hy-Vee Bakery while it lasts!

Juice

Last, but not least, pick up a jug of Hy-Vee Orange Juice, and maybe a bottle of sparkling wine, for a toast to Mom.