Primary Media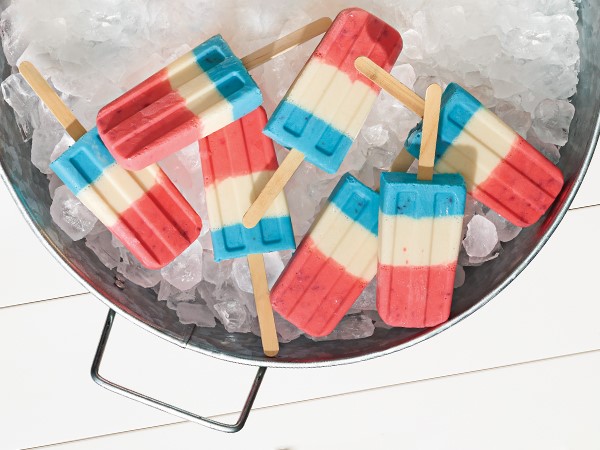 Description
How is it that July 4th always lands on the hottest day of the year?! Well, Hy-Vee's got you covered with 8 frozen desserts that are totally on-theme and will help you beat the heat! Try our coconut water pops, ice cream sandwich, and a super-cute ice cream cone recipes. You'll love how festive they look and how delicious they taste!
Coconut-Berry Hydration Pops

Keep the kiddos hydrated with electrolyte-packed coconut water and fresh berries frozen into pops!

Red, White, and Blue Ice Cream Cake

Celebrate the 4th in style with this red, white, and blue ice cream cake. This cake isn't like most ice cream cakes—inside is a star-shaped vanilla cake center! Follow this easy step-by-step how-to. 

Red, White, and Blue Yogurt Pops

Not only are these yogurt pops patriotic, but they're also made with Greek yogurt and fresh berries!

Red, White, and Blue Ice Cream Cones

Bringing dessert for your 4th of July grill out? We've got you covered with this quick and tasty recipe. Just dip ice cream cones in white chocolate, sprinkles, and top with your favorite flavor of It's Your Churn Ice Cream.

All-American Spiked Pops

If you like pina coladas... this recipe is for you! These red, white, and blue rum-infused pops are refreshing on a hot summer day. For a non-alcoholic version, just skip the rum!

Sparkling Ice Cream Cake

An ice cream cake with a hidden red and blue surprise on the inside... cake balls!

Easy Patriotic Ice Cream Sandwiches

These star-shaped cookie ice cream sandwiches are perfect for a July 4th celebration, or just on a hot summer's day.

Star-Studded Gelato Desserts

Indulge in a frozen red, white, and blue treat served in individual dessert cups. Top scoops of vanilla gelato with strawberry ice cream topping and frozen whipped dessert topping. Add a puff pastry star cutout and festive sprinkles.