Primary Media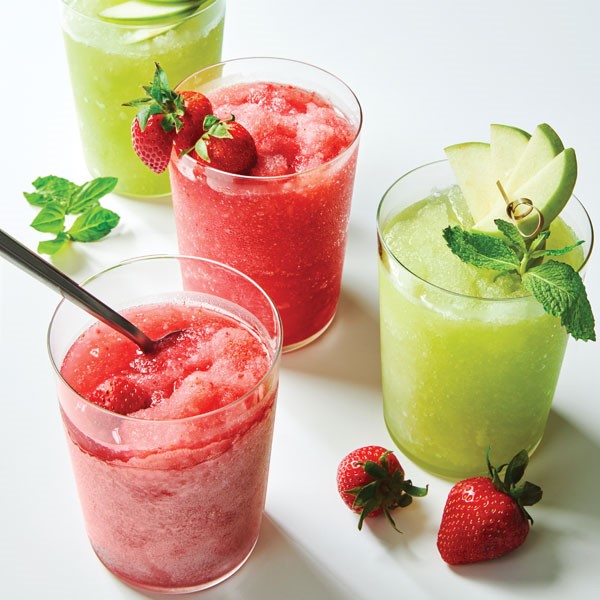 Description
Beat the heat with these boozy, icy, fruity drinks. Just give them a whirl, they're that easy.
Short Cuts Strawberry Frose

Frose: the super popular frozen rose wine slushy taking over the internet. Give our version a try with extra strawberry flavor thanks to Strawberry Edition Absolut Juice.

Pineapple Colada Slushies

If you like pineapple coladas... that's how the song goes, right? Even if it doesn't, these rum-infused tropical slushies are just as (if not more) refreshing than the original version.

Tropical Freezer Cocktails

One of the "coolest" things about these frozen layered cocktails, is that you can blend and keep them in the freezer in a resealable plastic bag. The alcohol will keep them from freezing so they stay slushy.

Strawberry Pineapple Wine Slushee

Three ingredients are all you need for this layered frozen slushy. Just blend the strawberries and pineapple separately with white wine and then layer or swirl for a stunning frozen cocktail.

Short Cuts Honeydew Wine Slush

Subtly sweet honeydew paired with sweet sparkling wine and Apple Edition Absolut Juice makes for the perfect summer slushy drink.

Rosemary-Cherry Limeade Vodka Slushy

What makes this cocktail? The homemade rosemary-lime simple syrup. You're going to love the sweet tart flavor that brings out the flavor of frozen tart cherries, cherry juice, and vodka.

Red, White, and Blue Slushies

If you're celebrating the 4th of July, or just feeling patriotic, these Red, White, and Blue Slushies made from Hy-Vee We All Scream! frozen assorted berry pops and vodka are going to hit the spot.

Strawberry-Watermelon Slushies

Adding 1/4 cup of tequila to this strawberry and watermelon slushy makes for a blended margarita you won't be able to resist.