Primary Media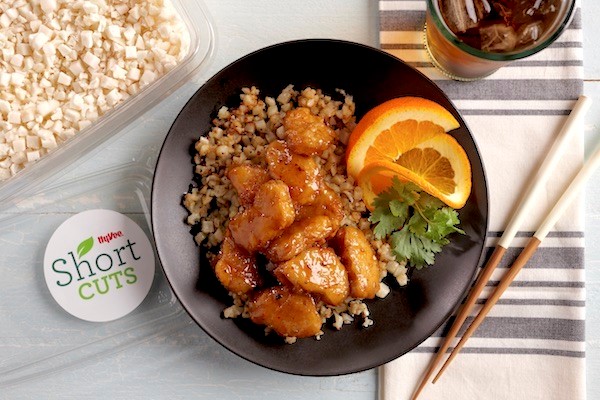 Description
Every good meal tends to balance the following: fat, salt, heat, and acid. Here we're focusing on acidity, which can be in the form of vinegar, wine, or in this case, citrus. Think about how a squeeze of lemon brings out all the flavors of grilled fish, or how a touch of lime zest can completely change your guacamole. In other words, citrus basically has the power to transform a dish from meh to "yah!" 
Here we share our best recipes for making the most of citrus—lemons, limes, oranges, grapefruits, and all.
Crispy Orange Beef Stir-Fry

This healthier spin on takeout uses both fresh orange zest and fresh-squeezed juice to brighten the flavors and put the finishing touches on an aromatic dish. Not to mention it's a 30-minute, one-pan, gluten-free weeknight dinner. 

Vegan Orange "Chicken" and Cauliflower Rice

For this super simple heat-and-serve dinner, we livened up Gardein Mandarin Orange Cripsy Chick'n (find them in the frozen food aisles in the HealthMarket) with a squeeze of orange. That's all it took to add just enough zip to cut through the saucy "chicken" nuggets.

Ginger-Lemon Chicken-Noodle Soup

The next time you make chicken soup—or heat up a store-bought version (nothing wrong with that)—try adding fresh lemon slices and notice how much lighter and brighter it tastes. 

Fresh Crab Salad

Seafood and lemon are a well-known pair, but seafood and grapefruit? Yes. Bitter grapefruit is actually the perfect match for sweet crab meat. Plus there's lemon in the dressing, so your salad is covered either way. Literally. 

Garlic and Lemon Smashed Potatoes

This is the kind of recipe that once you make, you wonder why you don't make it more often. These potatoes are roasted whole, then smashed, baked again to get all crispy, and topped with a lemon-yogurt sauce. 

Turkey Lime Jicama Tostadas

This recipe is practically swimming in fresh lime flavors. The lime juice here actually works two-fold, preventing the jicama from oxidizing and turning brown and adding a puckery zip to the turkey.

Chicken with Rosemary and Lemon

A whole roasted chicken with lemons and fresh herbs. It's a classic, and for good reason. Lemons add not just acidity, but also an irresistible fragrance that will make your tummy growl the moment the oven door opens.

Citrus Winter Salad

We don't always remember to add citrus to our salads, but when we do... it makes us love salads again. Especially when balanced with a sweet honey mustard dressing and sprinkled with a bold-flavored cheese.

Bucatini with Wilted Spinach and Lemon Mascarpone Sauce

Pasta is too often a missed opportunity to let citrus shine. But not this time. In fact, this recipe is a perfect example of how fat (cheese), acid (lemon), heat (crushed red pepper), and salt work together to create a meal to remember. 

Citrus-Marinated Drumsticks

You'll need two oranges for this, but better get three. One is to add zest and juice to the marinade; the other is slice and roast with the drumsticks, releasing an aromatic orang-ie-ness into the chicken as it bakes. Where we veer from the recipe is adding a third orange as a garnish ... to squeeze over the drumsticks and whatever you're serving them with. 

Orange Trout with Garlic and Herbs

Whether you catch it yourself or buy it fresh from Hy-Vee, this simple trout recipe is as easy as whisking together a citrusy herb mixture, slathering it on the fillets, and broiling for a few minutes. It works with most fish, so don't be shy about substituting. 

Spicy Lemongrass Citrus Chicken

We consider this one of the best chicken recipes to come out of the Hy-Vee test kitchen. Must be the citrus.