Primary Media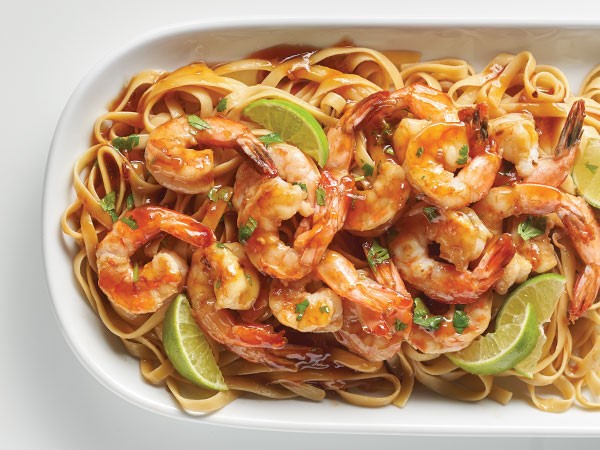 Description
If you're a fan of Asian takeout (and who isn't?!) you're going to love these recipes! Not only are they packed with shrimp and all the Asian flavors you love, but they take less than 30 minutes to make from start to finish! These recipes might just be quicker than ordering takeout.

If you don't see your favorite shrimp listed in the ingredients, feel free to substitute! Shrimp come in all different sizes, plus you can get them cooked, raw, fresh, or frozen. Just adjust cooking times, and you'll be able to use your favorite variety.
Garlic-Teriyaki Shrimp Linguine

Take pasta night over-the-top with this homemade shrimp and garlic-teriyaki main dish.

Stepped-Up Ramen Shrimp Soup

Add a few ingredients and a few quick steps to change up your ramen. It still only takes 20 minutes from start to finish.

Thai Coconut Shrimp Soup

Curry adds a warm hue and exotic flavors to a coconut-shrimp based soup. Look for naan bread to serve on the side.

Kickin' Shrimp

Why do we call this recipe Kickin' Shrimp? Maybe it's the gochujang, maybe it's the crushed red pepper, maybe it's the ginger. You get the point, we added the spice!

Tom Yum Vegetable and Shrimp Soup

Tom Yum is a hot and sour Thai soup usually served with shrimp. If you don't have Culinary Tours tom yum broth, you can use regular broth, but you will lose some of the pucker that tom yum broth offers. 

Honey Garlic Shrimp and Broccoli

Dinner is on the table in just 20 minutes when you make this grilled shrimp paired with steamed and grilled broccoli complete with a honey-soy dressing.

Spicy Thai Peanut Shrimp Bowl

Spicy Thai noodle bowls are eaiser to make than you think. Just reach for a few simple pantry staples and some pre-cooked shrimp.

Thai Shrimp Kale Bowls

Just add shrimp and Culinary Tours Szechuan Style Peanut Sauce to our Ultra Simple Chopped Kale Salad and dinner is served.

Mandarin Orange, Rice and Shrimp Lettuce Wraps

Sweet and spicy shrimp lettuce wraps, it doesn't get much better than that.

Soy-Ginger Shrimp Soup

Fresh ginger and dry sherry give a lift to the delicate flavors of shrimp and vegetables. Keep the sodium level down by using light soy sauce and low-sodium chicken broth.

Coconut Curry Shrimp Soup

Sweet, savory, salty, and everything you want your shrimp curry to be.