Food Love
16 Recipes Using Our Favorite Culinary Tours Ingredients
Primary Media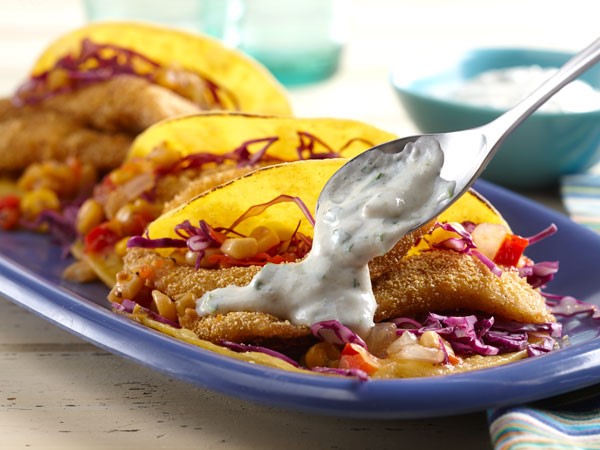 Description
Culinary Tours is a whimsical line of globally-inspired products, meaning you can easily whip up your favorite dishes from around the world. Discover Tom Yum broth, Street Taco Sauce, Icelandic Yogurt, Vindaloo Sauce, Harissa, and more. The recipes below are just a few ways to start your culinary tour around the globe.
Chicken Vindaloo

This quick take on an aromatic Indian curry uses a combination of sweet potatoes and russet potatoes. The trick is to nuke them in the microwave for a few minutes and then allow them to finish cooking in the sauce.  

Tom Yum Vegetable and Shrimp Soup

Tom Yum Soup is a traditional hot and sour soup from Thailand. Using Culinary Tours Tom Yum broth helps give it that hint of sour. From there, you can control the heat by reducing the amount of red pepper flakes. 

Spicy Tuna Roll Ramen

We were inspired by the flavors of sushi rolls and ramen to come up with this soup. Adding strips of dried nori sheets and slices of seared ahi tuna to a ramen broth is what made it so magical. 

Breaded Fish Tacos with Hatch Pepper Crema

It's like fish and chips meets Tex-Mex flavors with Culinary Tours' hatch green chili street taco sauce and the Texas corn salsa. 

Chipotle Pork Barbecue Breakfast Tacos

In this street taco recipe, we share our favorite tip for charring the shells, an optional step, but one you won't regret.

Roasted Garlic Yogurt Everything Sauce

We are obsessed with this sauce. We used Culinary Tours' Icelandic Greek yogurt as a base, then hit it with roasted garlic, lemon, parsley, and olive oil. We recommend putting it on everything.

Sweet and Spicy Caramels

There's a lot of ways to use Culinary Tours Peach and Habanero Jam, but few as good as cooking it into sweet and spicy caramels.

Peach Crumble with Whiskey Whipped Cream

A Southern staple, Culinary Tours makes a peach crumble that comes frozen. All you have to do is unwrap and bake. And make the whiskey whipped cream, of course. 

Harissa Chilaquiles

Chilaquiles is a traditional Mexican dish that involves cooking tortillas in salsa. But we added a mildly spicy North African twist by using Culinary Tours Harissa sauce. 

No-Churn Lavender Earl Grey Ice Cream

Now here's an idea: You can use exotic teas to flavor homemade ice cream, and you don't even need an ice cream machine. 

Grilled Bahn Mi Brats

This Vietnamese-style brat will rock your cookout. We tested it with Hy-Vee Pineapple Brats, but we're pretty sure any brat will do. The trick is to use a jalapeno hot sauce and harissa-spiced peanuts. 

Chicken Gyro Wraps

Wraps are all about what's on the inside. And in this case, it's a packaged tabbouleh with quinoa mixed with bottled tzatziki sauce. 

Belgian Waffle Sandwich Cookies

The cookies are good straight out of the package, especially with a cup of tea. But for entertaining or gifting, we created a quick sandwich cookie using Culinary Tours Salted Caramel Maple Syrup. 

Beer-Marinated Chicken Tostadas

This Mexican-American combo is a playful take on beer-can chicken. The chicken is marinated in beer and spices, grilled, tossed with Craft Beer Barbecue Sauce, and piled on a crunchy tostada. 

Barbecue Pork, Mango, and Habanero Quesadillas

From the title, it sounds like a lot going on in this recipe. But really, it's all about the Culinary Tours Mango and Habanero Cheddar Cheese. 

Baked Mushroom Arancini

Arancini are little fried balls stuffed with rice or risotto commonly eaten in Sicily. Our baked version, however, uses a quick-cooking Culinary Tour Risotto and only requires 20 minutes of prep.