Food Love
11 of Our Favorite Local Products at Hy-Vee
Primary Media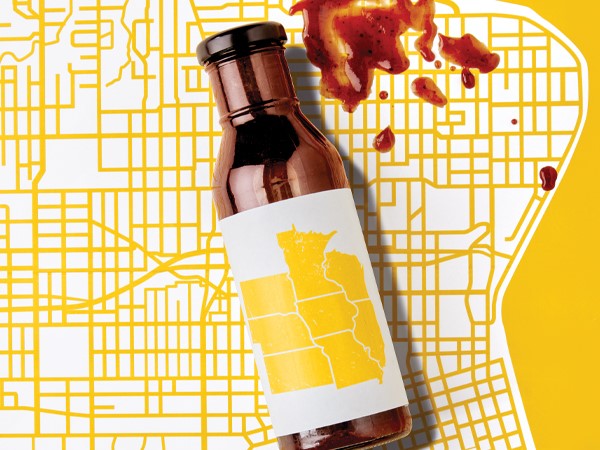 Description
At Hy-Vee, we're proud to support local businesses by stocking their items on our shelves! There are so many reasons to shop local. These products have a special quality that often comes from the owner's deep connection to the product. Buying them helps support your local community, and it's always fun to show your hometown pride.
Here are just a few of our favorite local brands at Hy-Vee. There's even more in the digital edition of Seasons Magazine!  
Logboat Brewing Co., Columbia, MO

Logboat's mission is to brew distinctive beers. They continually add to their core lager, IPA, and wheat beers with rotating seasonals and special releases. Pale ales are a specialty, but their Irish-style red ale, saison, stout, and Imperial stout are great, too! 

The brewery is housed in a renovated meat packing facility. If you're near Columbia, check out the Logboat Taproom to taste beers and explore the reclaimed materials with historical Missouri connections.

Sonny's Spaghetti Sauce, Saylorville, Iowa

Using the original family recipe passed down for generations, Sonny's Spaghetti Sauce is made in small batches with fresh-packed tomatoes, not concentrate. It's the creation of Quinby, John, and Angelo Vacco, who opened Sonny's Pizza Bistro in 2006. If you love their spaghetti sauce, you need to try their pizza sauce next!

Iya Foods, North Aurora, Illinois

Iya Foods specializes in African-inspired ingredients and products that reflect a culture of food purity and exceptional taste. The company has an eye on sustainability, buying whenever possible from local growers who use environmentally responsible growing methods.

Iya Foods products include better-for-you flours, gluten-free baking mixes, wholesome food powders, and a range of unique spices and seasoning blends.

Thelma's, Des Moines, Iowa

From a little pushcart at the farmers' market to the freezer aisle at Hy-Vee, Thelma's popularity has risen fast. Named after a great-grandma known for her snickerdoodle cookies, the company offers a variation of her recipe and 16 other ice cream sandwiches, plus ready-to-bake cookie dough.

Safely Delicious, Overland Park, Kansas

Safely Delicious products are free of the top 11 food allergens, including wheat, dairy, nuts, soy, egg, and sesame. They're also gluten-free and vegan!

Sweet and crunchy rice-based Snack Bites feature different chocolates with added flavors like raspberry, coffee, and mint. Savory Medley goes for a bold taste right out of Kansas City. Each product is intended to look and taste like traditional snacks.

Big Moe Cason, Des Moines, Iowa

Des Moines native and Navy veteran Moe Cason always had a fascination with fire. So becoming a pitmaster only made sense! 

He doesn't just smoke the perfect brisket or win barbecue championships. Moe has his very own line of sauces and rubs that fly off the Hy-Vee shelves. His sauces are named after interstates and reflect the iconic flavors of the particular interstate's region.

Watch his show, Moe Town BBQ, on HSTV!

Mama Kicks, Eden Prairie, Minnesota

Mama Kicks sauces and marinades are made with exotic spices from faraway lands ranging from the Caribbean to the Congo. Products feature authentic flavors originating from the best recipes of each region.

Many of those recipes were passed from generation to generation by women. As a tribute to women all over the world, Mama Kicks donates a percentage of sales to help women entrepreneurs achieve independence and equality in business.

LoCal Vodka Seltzers, Grimes, Iowa

Available exclusively at Hy-Vee, LoCal hard seltzer comes in four flavors: black cherry, lime, peach, and grapefruit. And yes, every flavor is low in calories!

Bekemeier's, Neosho, Missouri

Bekemeier's honey is 100% pure raw, meaning it's minimally processed and never filtered. It's as close to natural honey from the hive that you can get!

Bekemeier's is a fourth-generation family-owned and operated company, providing wholesome products for more than 60 years. 

 

Lola's Fine Hot Sauce, West Des Moines, Iowa

Lola's Fine Hot Sauce began with a secret recipe passed down through generations that became a hit at the local farmers' market. Made from the freshest ingredients, each bottle contains the world's most unique peppers. Lola's mission is to provide truly delicious hot sauce that won't "melt your face off," but enhance the flavor of your food. You should be able to taste the love of the Lola family in ever bottle.

Joia Spirit, Mendota Heights, Minnesota

Joia Spirit serves up your favorite craft cocktails in a can. It all started with Joia Sparkling, an all-natural craft soda, and quickly evolved from there.

The makers of Joia Spirit are passionate about ingredient transparency. All cocktails are naturally gluten-free and vegan, made with real spirits and ingredients.