Primary Media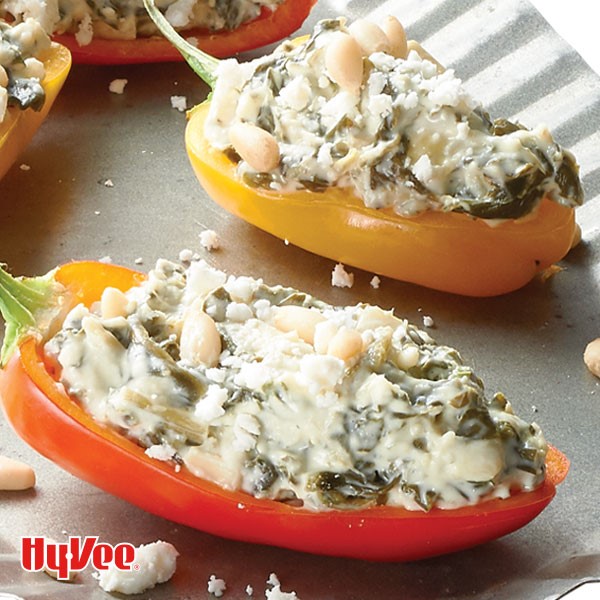 Description
So you or one of your friends has gone keto... So long, nachos, quesadillas, and pizza. But don't worry, there's plenty of low-carb, high-fat foods to dip into for parties and game days. 
The thing to remember is that each serving of these appetizers may contain 2 or 3 carbs. Depending on your daily limit, you may want to be mindful of amounts. 
Mini Pepper Mozzarella Bites

When you're looking for a quick-to-assemble appetizer, remember this recipe. It's only 4 ingredients, so it's pretty easy to memorize. Repeat after us... 
Mozzarella Pearls
Olive Oil
Fresh Basil
Mini Bell Peppers

Cauliflower Bites

If you're missing pizza, this cauliflower-based appetizer is here to save the day. Just don't skimp on the Italian cheese, herbs, and teeny tiny pepperoni slices.

Artichoke Pepper Bites

Ditch the crackers and use sliced bell peppers to dip into your favorite spread. We used artichoke dip, but you can use any low-carb dip for this. 

Andouille Shrimp Skewers

It's our two favorite gumbo ingredients in one amazing bite. 

Chorizo-Nacho Pepper Poppers

Did someone say chorizo? If you're following a strict keto diet, you might consider ditching the crushed tortilla chips in this recipe. It'll still be tasty, we swear. 

Classic Guacamole

Avocados are loaded with healthy fats and fiber, and while they're also low in carbs, they aren't entirely carb-free. Just keep an eye on your serving sizes. 

Deviled Eggs

Those that love deviled eggs, really love them. And this truffle honey and prosciutto version is no different.

Wings

Watching a game without wings is like mornings without coffee. Fortunately, like coffee, you can easily make them at home. 

Air Fried Meatballs

This is more of a suggestion, really, but if you plan to serve meatballs and you also own an Air Fryer, we highly recommend using it to cook frozen meatballs.  

Hot Spinach Dip

We love cold dips, too, but there's just something about a warm cheesy dip that calls to you during parties.  

Avocado Shrimp Salsa

Who wants regular salsa when you can have it with shrimp and avocado? That's what we thought, too.

Artisan Cheese Crisps

It's our fancy way of saying cheese crackers, and we love everything about this two-step recipe that uses one ingredient—cheese.
1. Place piles of grated cheese on a parchment lined-baking sheet.
2. Bake until golden brown.

Three Cheese Buffalo Chicken Dip

Let's hear three cheers for three cheeses. And three more for buffalo, chicken, and dip. Instead of using chips to dip, many keto dieters opt for pork rinds as a low-carb alternative.

Spicy Pickle Wrap Dip

Pickle wraps and pickle wrap dips are a staple in the Midwest, and for good reason. While this recipe uses dried beef, you can used cooked bacon or ham instead.