Primary Media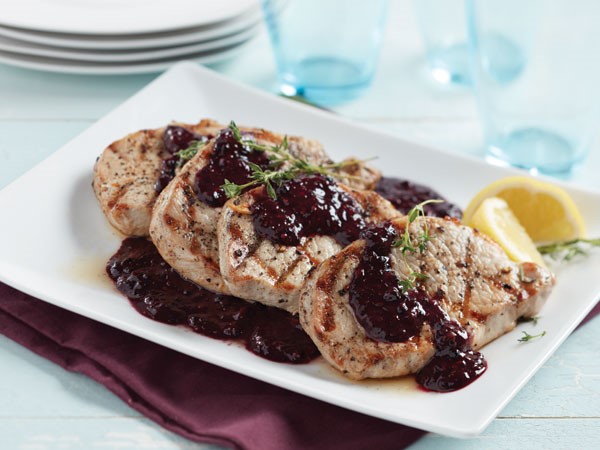 Description
According to the National Pork Board, the pork that's available today is 16 percent leaner and 27 percent lower in saturated fat than it was 25-plus years ago. In fact, many cuts are now comparable to lean, skinless chicken.
There are several cuts of pork that meet the USDA guidelines for "lean," which is defined as having fewer than 10 grams of fat, 4.5 grams of saturated fat, and 95 milligrams of cholesterol per serving. Examples include boneless top loin chops, center loin chops, and rib chops. A good rule of thumb when shopping for pork is to look for the words "loin" or "chop."
Honey-Glazed Pork Chops with Grilled Peaches

Natural sweetener from honey and fresh peaches gives this dish it's smoky-sweet vibe, and for only 300 calories.

Pork Chops with Cherry Glaze

This low-calorie, low-carb recipe is a must when cherries are in season. And even when they're not. Hy-Vee frozen dark cherries work great, too.

Hot & Spicy Grilled Pork Chops

Packed with flavor, not fat, these chops get a sweet and smoky rub and then marinate for 4 hours in a hot and spicy barbecue sauce. It may take some planning ahead, but it's worth it. And you only need five ingredients. 

Pan Roasted Pork Chops

Using small amounts of really delicious things is the secret to packing in flavor, not fat. Here we used oil, butter, and wine to make a delicious pan sauce for these lean chops. 

Blackberry Mustard Pork Chops

This is one of our #HyVee4Dinner recipes on Instagram because it only had 4 ingredients and it's super easy to make. Plus this one just happens to be on the leaner side. 

Greek Stuffed Pork Chops

Packed with spinach, fresh herbs, olives, and feta, it's basically a Mediterranean dream come true. Plus it's high in protein and low in carbohydrates and calories. 

Apple-Stuffed Pork Chops

We love when something naturally pairs well with fruit, like pork chops and apples. It's a great way to sneak in some fiber.

Pecan and Herb Crusted Pork Chops

Even with the bread crumbs, it's still a low-carb entree with heart-healthy olive oil and crushed pecans for added flavor and texture. 

BBQ Pork Chops with Garlic Potatoes

We lean pretty heavily on a start BBQ seasoning to add smoky sweet flavor without using a ton of ingredients. If you're watching your sodium, look salt-free seasons and omit the extra salt to taste. 

Pork Chop Skillet Meal

Looking to add a lean protein to a pasta or salad? Boneless center cut pork chops cut into cubes are a great alternative to chicken.