Primary Media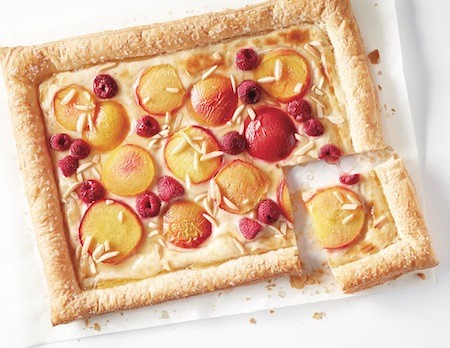 Description
Get your slice of a summery slab pie, sip on some lemonade, and fire up the grill—it's time to enjoy every last bite of the season. 
Blender Lemonade

So easy. So refreshing. So there's no excuse not to make this iconic summer drink.

Icy Yogurt Pops

You can use any flavor of berries and yogurt in these pops. They also get a puckery little kick from lemonade. 

Easy Peach Slab Pie

If you're not crazy about making your own pastry, this recipe's for you. And it's ready in 30 minutes. 

Grilled Watermelon with Minted Salsa Bites

What could be more summery than watermelon and grilling? There's only one thing. Grilled watermelon. 

Sweet Cherry Salsa

Chips and salsa are a must at summer parties, but there's something especially sweet about this spiced-up version.

Heirloom Tomato-Ricotta Tart

At the peak of the season, you can expect heirlooms to be on the menu for breakfast, lunch, and dinner. 

Awesome Avocado BLT

There's not much more to say about this quintessential summer sandwich. 

Crunchy Street Corn

Ever tried rolling your corn in crushed cheese-flavored chips? Well, there's no better time to try than summer.  

No-Churn Lavender Earl Grey Ice Cream

No-churn means no ice cream machine needed. What we love about this recipe—other than it's ice cream—is that you can try it with different flavors and types of tea. 

No-Bake Avocado Key Lime

Didn't make it to the Sunshine State for summer vaca? Neither did we. But we did enjoy every last bite of this Florida-inspired dessert.

Traditional S'mores

There are a lot of s'more-flavored foods out there, but nothing as good as the original.

Grilled Potato Salad with Pancetta

Summer cookouts almost always include potato salad and grilling. But if you've never had a grilled potato salad, you're in for a treat. 

Grilled Steak Sliders with Cola Barbecue Sauce

Adding cola to the steak isn't just a tribute to summer, it helps tenderize the meat while adding just the right amount of sweetness. 

Short Cuts Fruit Pizza

For summer picnics or a fun cooking activity with the kids, this dessert will keep everyone smiling.

Chili Dog Change-Up

When chili met the hot dog, an iconic summer street food was born. While not the healthiest combination, it's always had potential to be less bad for you—like in this "change-up" version. 

Classic Barbecue Chicken

Of course everyone has a different idea of classic barbecue sauce. In this simple recipe, we grilled a bunch of drumsticks and slathered them in our favorite sauce for the last five minutes of cooking.

White Peach and Jalapeno Margarita

If you see white peaches in the store this summer, scoop up a bunch. They're slightly less acidic and have a light floral flavor. Otherwise, regular peaches still work beautifully in this summer cocktail.

Creamy Broccoli-Basil Soup

We know, most people don't think of broccoli when they think of summer. But if you have an abundance of basil, the combination is an unexpected dinnertime dream come true.

Strawberry Jam

Jam and brie sandwiches are our summertime jam (we had to say it). There's just something about the fresh sweet flavor that makes it undeniably delicious.

Breaded Fish Tacos with Hatch Pepper Crema

This recipe was inspired by two of our favorite summery things—Taco Tuesday and Fish Fry Friday.

Strawberry Cheesecake Beer Float

We tried many, many combinations of beer and ice cream until we found just the right match. And we would do it again in a heartbeat. 

Blueberry-Lemon Frozen Daiquiri

It's everything you want your summer to be ... blended into one simple but beautiful cocktail.