Primary Media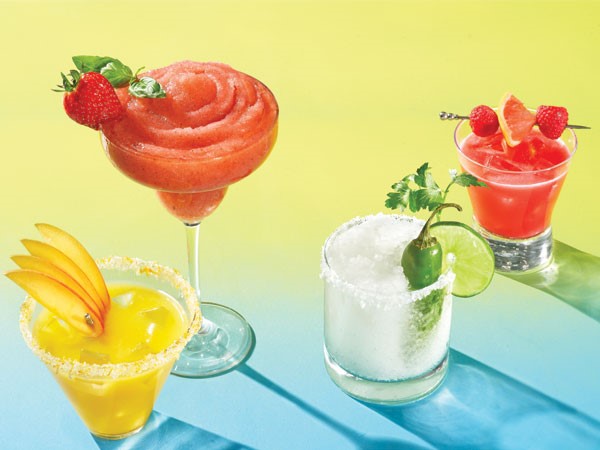 Description
No matter how you mix it, we've got a margarita recipe to hit the spot. You can even make the mixers up to 5 days in advance and store in the refrigerator until you're ready to mix it or mash it up! The only thing left to decide: Which mash-up are you going to choose?
Frozen Strawberry-Basil Margaritas

We love the combination of strawberries and basil. So why not add them to a frozen margarita? Just blend up your mixer of strawberries and basil and you're on your way to a 10-minute margarita.

Strawberry Lemonade Margarita

Love strawberry lemonade? Mix those flavors into a margarita spritzer.

Mango-Orange Margaritas

Frozen tip: If you're more of a slushy marg person, substitute Hy-Vee frozen mango chunks for the fresh mangos in the recipe. Then just blend, and serve.

Sparkling Cherry Hibiscus Margarita

All of your favorite flavors in one refreshing cocktail. Mix Zevia hibiscus passionfruit tea with cherry juice and tequila for a refreshing cocktail. 

Frozen Jalapeno Margaritas

If you're a fan of a spicy margarita, you've got to try our jalapeno margarita. If you don't want it frozen, just leave out the ice and shake the ingredients together in an ice-filled shaker glass.

Creamy Coconut Orange Margarita

Have you ever had a creamy margarita? Now's the time to try it! Mix coconut cream with orange juice, mango chunks, and your classic margarita ingredients for a frozen blended cocktail. 

Raspberry-Grapefruit Margaritas

So sweet and tart, this recipe makes for an excellent virgin margarita. Just blend up the mixer and skip the alcohol.

Tropical-Dragon Fruit Blended Margarita

Looking for a show-stopping beverage for your next get together? Make these layered margaritas. The bottom layer is made with blended raspberry sorbetto and dragon fruit, while the top layer is made of mango sorbetto and pineapple. Yum!