Primary Media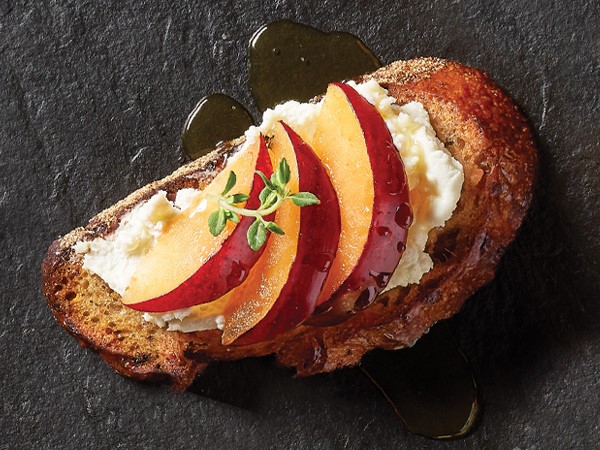 Description
No matter how you're celebrating the Holidays this year, start off with one (or a few) of these easy cheesy party bites. We even broke down the flavors of each cheese, so you can come up with your own flavor variations. 

To learn more about cheese and pairings, view our Cheese Guide.
Manchango-Mango Crackers

Manchego, a Spanish cheese with a mild nutty flavor and distinct creamy bite, stands up well to sweet jams with heat.

To Make: Spread habanero-mango jam on whole-grain crackers and top with thinly sliced Soiree Manchego cheese and chopped toasted Hy-Vee slivered almonds. Garnish with Italian parsley, if desired. 

Strawberry-Brie Stack

Brie, a renowned French cheese with an edible fluffy white rind and soft, creamy interior, has an intense flavor that goes well with fruit. 

To Make: Skewer a whole strawberry and fresh basil leaf to a bite-size wedge of Brie. Drizzle with Hy-Vee Select balsamic glaze, if desired. 

Tomato-Burrata Endive

Burrata is a fresh Italian cheese that boasts an interior that consists of fluffy milk curds mixed with fresh cream. Soft and creamy, it lends richness to fresh produce. 

To Make: Fill an endive leaf with a strip of salami, a spoonful of burrata cheese, cut-up cherry tomatoes, and toasted pine nuts. Garnish with fresh oregano and drizzle with Gustare Vita extra-virgin olive oil.

Goat Cheese-Plum Toasts

Fresh goat cheese has a soft, spreadable texture and tart, earthy flavor. It plays well with fruit. 

To Make: Toast Hy-Vee Bakery walnut-raisin bread at 350 degrees for 10 minutes. Spread Soiree Artisan Original goat cheese on toasted bread. Top with fresh plum slices and drizzle with Hy-Vee honey. Garnish with fresh thyme, if desired. 

Blackberry-Cheddar Pancetta Crisps

Aged Cheddar is a rich, full-bodied cheese with a long, lingering flavor. Its complexity teams well with smoky pancetta, while the sweetness of jam puts everything in harmony. 

To Make: Spread seedless blackberry preserves on rosemary-flavored crackers. Top with thin ribbons of aged white Cheddar cheese and crisp-cooked pancetta. Garnish with chives, if desired. 

Triple-Cheese Pimiento Tarts

Sharp Cheddar has a tang and complex flavors. Colby adds creaminess and mildness. Parmigiano-Reggiano delivers a buttery, sweet, and nutty flavor. Together, the cheeses marry well to sweet, smoky, and spicy flavors. 

To Make: Combine 1/2 cup each shredded sharp Cheddar cheese and shredded Colby cheese, 1 tablespoon grated Parmigiano-Reggiano cheese, 1 (2-oz.) jar diced pimientos, 1/3 cup Hy-Vee mayonnaise, 1 tablespoon finely chopped green onion, 1/2 teaspoon smoked paprika, and 1/2 teaspoon Sriracha. Spoon mixture into 15 frozen mini baked phyllo shells. Bake at 350 degrees for 8 to 10 minutes or until set. Garnish with sliced green onions, if desired. 

Blue Cheese Pear Wedges

Blue cheese, with its sharp, salty flavor and crumbly texture, intensifies the sweetness and subtle hints of fall spices in pears.

To Make: Spread creamy blue cheese on pear slices. Sprinkle with pomegranate seeds and candied walnuts.

Dill Havarti-Grape Skewers

Dill Havarti is a rich, buttery cheese with mild dill flavor. Give it a try with delicate-textured prosciutto and sweet grapes to hit several flavor notes—cheesy, salty, and sweet—all in one bite.

To Make: Wrap a ribbon of prosciutto around a cube of dill Havarti and red and/or green grapes and skewer with a party pick. Garnish with fresh dill sprigs, if desired.