Primary Media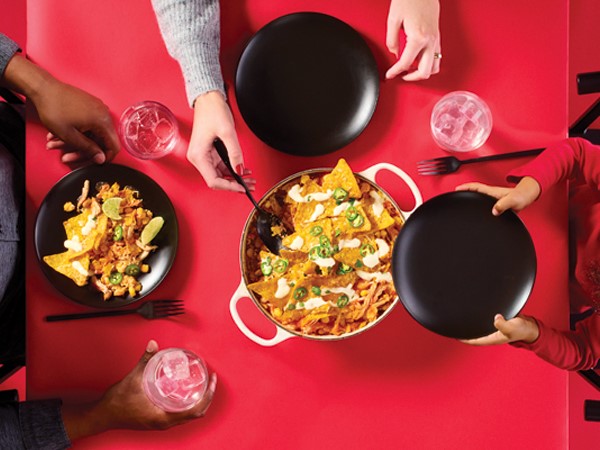 Description
Calling all busy parents and adults; we have insider information on the secret to weeknight meal success. Psst, it is the power of the one-dish casserole! When we think of casseroles, we think of the 90s and our grandma's set of casserole dishes (which are our favorite family meals!) Usually containing a well-rounded plate of protein, vegetables, and carbs. They are the epitome of the perfect weeknight meal for families and anyone looking for a "throw it all in one pan" and walk away option.
These casseroles are about to steal a slot in your family's weekly meal rotation. If not for any other reason but the fact that they give you back time in your day! All dishes can be prepped in under 30 minutes leaving you time to accomplish other things that have been piling up. We've got options that range from Tex-Mex inspired, to hot Cheetos topped, to new twists on casserole classics (hello, Tuna-Zoodle Casserole!) We've got something for everyone. Check out our 8 favorite casserole recipes below!
Chicken and Ranch Casserole

If you haven't started buying ready-to-eat rotisserie chickens as part of your weekly meal prep you should start right now! We use rotisserie chicken to cut down on the cook time in this delicious Chicken and Ranch Casserole. 

Shrimp Chowder and Biscuits Casserole

Everyone loves a good chow-dah soup. How about a chow-dah casserole!?

Queso Fundido Casserole

We give you all the cheese in this over-the-top Queso Fundido Casserole. After all, what is a casserole without cheese?

Tuna-Zoodle Casserole

Throw out your old Tuna Noodle Casserole recipe to make room in your recipe box for this delicious Tuna zoodle casserole! Did we mention it's Gluten-Free?!

Fiesta Taco Skillet Casserole

Just in time for your next taco Tuesday! This Fiesta Taco skillet will be the perfect fiesta right at your dinner table. 

Flamin' Hot Cheetos Mac and Cheese Burger Casserole

Our mash-up of mac and cheese, cheese burgers, and all things spicy. Top this casserole with Flamin' Hot Cheetos for extra spicy flavor and crunch.

Tater Meatball Casserole

We weren't sure whether to call it a Minnesota Hot Dish or a Cowboy Casserole, so we settled for Tater Meatball Casserole. Either way, it's downright delicious!

Donut French Toast Casserole

A little sweet treat for your next Saturday brunch with the kiddos! Make this dish ahead and refrigerate overnight for easy morning preparation. P.S. you will even have time to slowly sip your coffee!