Living: Family
8 Ridiculously Cheap Recipes to Help You Come in Way Under Budget
Primary Media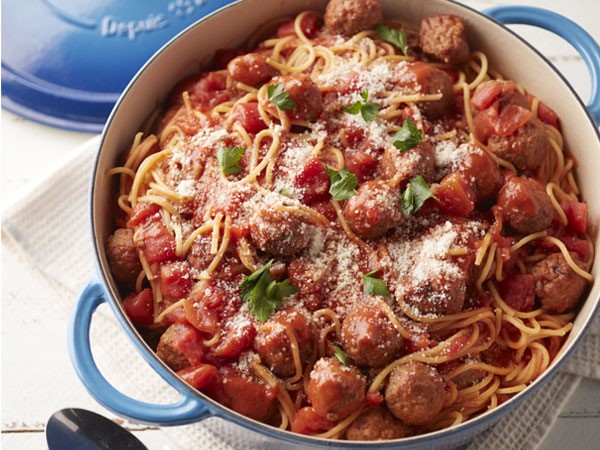 Description
The trick is to use private label products whenever possible to build your favorite meals. We used That's Smart! items to replace national brand items and came well within our budget. In fact, the most expensive recipe we developed came in at $2.25 per serving. And that's because we splurged on pre-shredded rotisserie chicken (a huge time-saver we don't regret). 
Broccoli, Chicken, and Rice Casserole ($1.40 per Serving)

Thick, rich, creamy, comforting, and only $1.40 per serving, this simple chicken casserole recipe checks all the boxes. 

Mac and Cheese ($0.76 per Serving)

We love the idea of sneaking in veggies to this simple, from-scratch mac & cheese. And at less than a buck per serving? We love it even more. 

One Pot Spaghetti and Meatballs ($2.18 per Serving)

It's the ease of this recipe that makes it great. The pasta cooks in the sauce while the meatballs warm through—all together in one pot. 

Peanut Butter and Jelly Bars ($0.24 per Serving)

At less than a quarter per serving, this might be an ideal bake sale treat. Or just a really delicious afternoon snack. 

Stuffed French Toast ($0.32 per Serving)

A loaf of That's Smart bread is usually right around $1 for the whole loaf. We used it as the base for a custardy French toast bake stuffed with a hazelnut-chocolate filling. 

Beef Tacos ($1.99 per Serving)

If you're on a budget, tacos are your friend. Even if you're not, tacos are still your friend. You can make them even more affordable by using 80/20 ground beef; however, we opted for a leaner version. You can also buy a taco seasoning packet for less than $1 or make a seasoning from what you already have. We included instructions with this recipe.

Tuna Noodle Casserole ($1.85 per Serving)

We couldn't put together a budget cooking story without including this classic family dish. 

BBQ Chicken Shredded Sandwiches ($2.25 per Serving)

Serving a platter of pulled chicken sandwiches on the cheap couldn't be easier with this "heat and serve" recipe. We recommend doubling the recipe since the buns come in a pack of 8.