Primary Media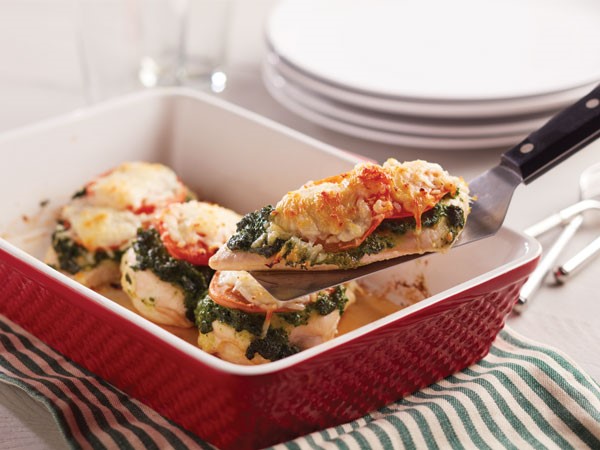 Description
Whether you're trying to lower your cholesterol or blood pressure, or you're just looking for healthier options for family dinners, we suspect you'll find a few new favorites here. Each of these recipes has been reviewed by a Hy-Vee Registered Dietitian to make sure calories, sodium, and saturated fat are in check. Plus, many of these recipes are a good source of heart-healthy fiber and omega-3 fats.
Remember, if you ever have questions about meal planning for a heart healthy diet, you can always reach out to your local Hy-Vee Registered Dietitian. Find one near you.
Honey-Sriracha Sockeye Salmon

Just because it's heart-healthy salmon, doesn't mean you can't bring the heat. We love serving this fillet with a side of cauliflower rice tossed with lime and cilantro.

Sausage Bean and Pasta Stew

We asked one our dietitians to makeover one of our favorite soups: sausage and bean. This is what she came up with, plus pasta!

Tangy Citrus, Fennel, and Avocado Salad

Salad doesn't have to be boring. Use fresh citrus and avocado to make heart-healthy greens something to look forward to.

Slow Cooker Swedish Meatballs

Yes, meatballs can be on a heart-healthy menu. This healthier version uses ground chicken and turkey and whole wheat bread crumbs.

Walnut-Crusted Salmon Winter

This recipe packs in the heart-healthy omega-3s, from both the walnuts and the salmon.

Pear Fennel Salad

Adding a small amount of blue cheese, or any strong-flavored cheese, to salad is a great way to add a punch. We like these bold cheeses because you can get away with using less.

Grape, Fennel, Chicken and Quinoa Salad

So apparently we use a lot of fennel. Probably because it's a great way to keep salads interesting. It has an anise- or licorice-like flavor that adds a bright, fresh taste.

Hass Back Hustle Chili

We always thought chili would be too high in sodium to be part of a heart-healthy diet. But if you use no-salt-added diced tomatoes and beans, you can get it within a healthy range.

Salmon, Kale, and Grains Salad

Versatile is what this is. You can use any kind of lean meat or fish, vegetable, and whole grain to prepare this protein- and fiber-packed bowl.

Cast Iron Pork Loin with Romesco Sauce

Romesco sauce is a secret weapon for adding rich flavors to lean meats. It's a blend of toasted almonds, roasted red peppers, olive oil, and seasonings. Pro tip: Make a double batch.

Dukkah-Crusted Salmon

Dukkah is an Egyptian spice blend that includes toasted nuts and spices such as coriander and cumin seeds, so if you're in the mood for something a little more adventurous, but still heart-healthy, this is it.

Garden Veggie Quinoa Bowl

We love how filling this lemony quinoa bowl is. With 11 grams of fiber and 16 grams of protein, this is the kind of dinner (or lunch) that prevents late-night snacking.

Feta Chicken with Veggies and Farro

Whole grains, lean meat, veggies, fruit, cheese—tackle all the food groups in one healthy and delicious meal.

Baked Chicken Caprese

When you need something really easy that's packed with Italian flavors, remember this simple 4-ingredient recipe.

Pork Tenderloin Salad

Now this is our kind of salad. The pork cooks in the slow cooker so all you really have to do is whisk together a simple vinaigrette.