Living: Family
11 Family-Friendly Sheet Pan Dinners That Keep Your Sink Clean
Primary Media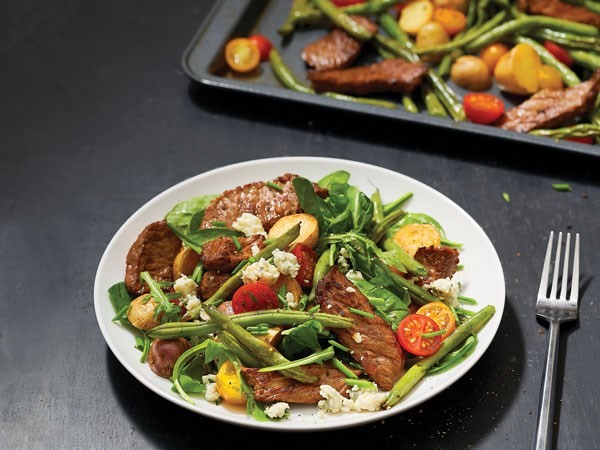 Description
When dinner is simple, and cleanup is even simpler, we get more time to eat with the family. That's why we turn to our favorite kitchen tool, the sheet pan. 
Sheet Pan Chicken Fajitas

They're just easier this way. And in our book, that makes them even more delicious.

Sheet Pan Grilled Cheeses

If you ever need or want to make more than one grilled cheese at a time, you'll want to hold on to this recipe.

Sheet Pan Steak & Eggs

This playful dish is not only simple to prepare, it's fun to serve family-style—straight from the pan.

Greek Sheet Pan Chicken

Fresh squeezed lemon and feta is a combination we will never get sick of.

Sheet Pan Caprese Chicken with Spaghetti Squash

Easy caprese. We love us some spaghetti squash, especially topped with tasty mozzarella pearls. 

Sheet Pan Pork Chops

We love the addition of thinly sliced apple to this fall-inspired meal.

Sheet Pan Stir-Fry

Who needs a wok when you have a sheet pan? 

Sheet Pan Pancakes

When the mood for pancakes for dinner strikes, reach for the sheet pan. 

Sheet Pan Omelets

If you're the kind of household that always has eggs in the fridge, then this quick-fix breakfast-for-dinner option is for you. 

Sheet Pan Steak Salad

This savory marinated steak is baked to perfection with potatoes on a sheet pan ... whether or not you use them to top salad is up to you.

Sheet Pan Mediterranean Halibut

Master flakey and flavorful fish with this easy sheet pan method.