Primary Media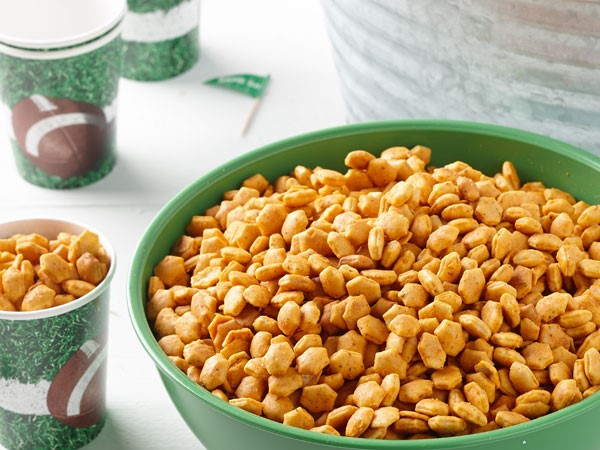 Description
We love our pizza and chicken wings, but when you're ready to mix things up—and lighten them up—here's a few ideas for entertaining a crowd ... somewhat healthfully.
Turkey Stuffed Pinwheels

By using whole grain tortillas, turkey, hummus, and veggies, you can turn your favorite wrap into a healthy appetizer. 

Spicy Roasted Red Pepper Hummus

Fans of foods that make you sweat will love this spicy dip. It's made with a couple serrano chile peppers for a one-two punch of heat.

Chicken Veggie Lettuce Wraps

It's your favorite Asian-style appetizer made even healthier with ground chicken breast and fresh veg.

Five-Spice Snack Mix

Chinese five-spice is a secret weapon for seasoning snacks. It's made with cinnamon, cloves, fennel, star anise, and Szechwan peppercorns for a warm blend of spices and unexpected but delicious flavors.

Hot Broccoli-Asiago Dip

By using light cream cheese and a few favorite veggies, we managed to make a dip that tastes amazing and has way less calories than most hot cheesy dips. 

Better-for-You Boneless Chicken Bites

If you gotta have wings for the big game but want to cut down on fat and calories, we have just the recipe for you. 

Spicy Turkey Meatballs

This one's all about the Spicy Sriracha Sauce made with honey and garlic. We love to make a big batch of these and freeze them for quick and easy appetizers down the road.

Layered Nacho Dip with Sweet Potato Chips

We use real sweet potatoes to make chips for a delicious layered dip with avocado and fresh pico de gallo.

Greek Yogurt Marinade

A healthy take on marinade, this tangy Greek yogurt version is full of lemon and fresh herbs. One batch will work on about a pound and a half of chicken. 

Spicy Cajun Popcorn

Need a good seasoning blend for popcorn? We did, too. That's why we mixed up this blend using common pantry spices. Also try our Parmesan Dill Popcorn for a less spicy snack.

Chicken Guacamole Dip

Adding bacon (just a little bit) and roasted chicken takes a fresh store-bought guac to a whole new level of deliciousness. 

Vegan Totchos

It can be challenging to eat vegan at a tailgate or potluck. That's why we love this simple tater tot recipe. 

Turkey White Bean Chili

This one-pot chili is loaded with lean ground turkey and fiber-packed beans. Plus, it's an easy recipe to double for a crowd.

Buffalo Seasoned Oyster Crackers

What to do with all those oyster crackers... Props to the Test Kitchen for coming up with this nifty snack.