Primary Media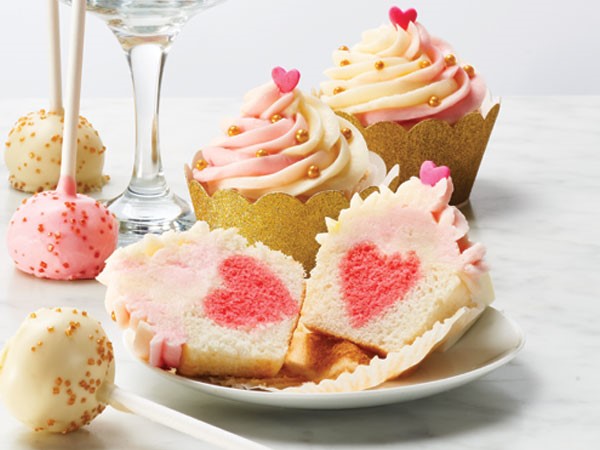 Description
Everyone knows that a good Valentine's Day ends with ... dessert! So, indulge on some of our sweet recipes. We've got everything from cakes, cupcakes, and brownies to chocolatey dessert cocktails that you, and your date, will love to love.
Buttercream-Rose Cake

When it comes to Valentine's Day desserts, this cake has it all. And by "all" we mean it's a 4-layer cake covered in pink buttercream frosting.

Champagne Heart Cupcakes

For a little something extra, we packed this recipe full of champagne. And added a surprise heart center.

Champagne Cake Pops

Cake pops anyone? They're also made with a champagne cake and champagne frosting.

Chocolate-Espresso Martini

It's a chocolate dessert and cocktail all in one.

White Chocolate Macadamia Blonde Bars

White chocolate and macadamia lovers, you might love these blonde brownies better than the cookies themselves.

Rosé Cake Donuts

Add a little rosé to your cake donuts. Valentine's Day is a special occasion after all.

Red Velvet Cheesecake Brownies

If you can't decide what to make for the biggest date night of the year, try our 3-in-1 recipe. It's a Red Velvet Cheesecake Brownie. Complete with a graham cracker crust.

Berry-Cream Icebox Pie

Who would rather have a pink pie on Valentine's Day? Show of hands?

Spiked Red Velvet Hot Chocolate

Forget the red velvet cake. What about a boozy red velvet hot cocoa instead?

Berry Phyllo Cups

Not much of a baker? It's the thought that counts. Show your love and appreciation for that someone special with these 3-ingredient Berry Phyllo Cups.

Cherry-Chocolate Love Cake

We love this cherry-chocolate-ricotta cake so much, we had to put it in the recipe name, too.

Layered Berry Angel Food Cake

When you pick up an angel food cake from the Hy-Vee Bakery, all you have to do is slice and layer, and your date will be super impressed.

Sweet 'n' Salty Brownies

Everyone loves a little sweet and salty. Especially when it's on top of a homemade chocolate brownie.

Valentine Fortunes

Share the love with handwritten personalized fortunes wrapped up in a homemade chocolate-dipped cookie.

Simple Berry Napoleons

Date night approved! All you need to do is bake the puff pastry and then layer it with whipped topping, and fresh berries.

Red Wine-Spiked Hot Chocolate

Red wine and chocolate are the perfect pairing. So cozy up on your date night with this warm spiked hot cocoa.