Primary Media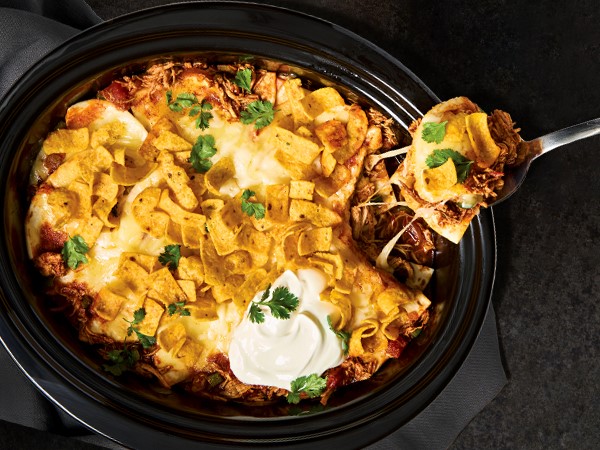 Description
Less prep time doesn't mean less flavor. That's why we love cooking in the slow cooker! They minimize cleanup time, they're portable (perfect for tailgating or potlucks) and they develop great flavor.
We've rounded up some of our favorite slow cooker recipes, along with helpful tips. Check out the digital edition of Hy-Vee Seasons for even more delicious slow cooker recipes.
Slow Cooker Banana Bread Quinoa

Your slow cooker comes in handy for easy mornings. Just dump the ingredients in the night before and put it on low.

A note on settings: The high setting brings food to a boil faster, then simmers for the remaining time. The low setting takes longer to boil and lessens simmer time.

Spicy Thai Chicken with Root Veggies

Chicken thighs and other dark meat poultry cuts contain enough fat to simmer for hours without drying out.

Hot tip: Sprinkle a handful of peanuts on top of your finished dish to highlight the flavors of the peanut sauce while adding a nice crunch.

Slow Cooker Wings

Appetizers, such as meatballs and chicken wings, can be cooked, toted and served all in one pot.

Slow-Cooked Korean-Style Short Ribs

Tender short ribs and veggies on a bed of mashed potatoes are sure to impress your hungry guests. Cook this dish on low to impart fall-off-the-bone tenderness and avoid tough, chewy meat.

Slow Cooker Hawaiian Pork Chops

Quick note on our pork: We partner with more than 400 family farms across the Midwest to source locally raised, superior flavor pork.

Citrus and Thyme Homestyle Turkey

Want more citrus flavor? Serving with orange slices or wedges allows everyone to add more juice to their plate for extra tang.

Slow Cooker Baby Back Pork Ribs

Look for the Midwest Pork label when shopping at Hy-Vee to enjoy the freshest, best-tasting cuts of pork.

Hawaiian Pulled Pork Sandwiches

Before piling on sandwich toppings, toast the buns so they'll stay crisp as you eat and won't fall apart when the sauce soaks in.

Slow-Cooked Sloppy Joes

Sloppy Joes are great to whip up for big gatherings. Pick up a Crock-Pot Cook and Carry at Hy-Vee for a lid that locks in place, preventing disastrous spills.

Slow Cooker Chicken Enchilada Casserole

Offer fresh tomatoes and guacamole on the side so everyone can customize their enchiladas exactly how they like.

Slow-Cooked Chili-Lime Pork Roast

Use your slow cooker to make tender pork, sweet potatoes and apples for fall flavor your family will rave about. 

Vegetarian Chili Mac

Slow cookers are perfect for making big batches of food. Leftover shredded meats can be added to sandwiches, pizzas, pastas and more. Soup or chili can be repurposed into a casserole or frozen and reheated later.

When saving leftovers, divide them into containers with tight-fitting lids. Freeze up to 3 months.

To reheat servings, use the microwave or oven. Slow cookers don't get hot enough to safely reheat leftover food.

Savory Beef Stew

Soups, stews, and chilis are slow cooker classics. Letting them simmer longer helps develop their flavors.

Slow Cooker Chili Con Queso

Dips are easy to cook and serve in a slow cooker. The "warm" setting prevents them from drying out.

Indian-Spiced Chicken

Slow cooker lids trap moisture in the pot. At the end of cooking, remove the lid and turn the cooker to high for an hour to evaporate the extra liquid.

Slow Cooker Pumpkin Cake with Caramel Sauce

You didn't think we'd leave out dessert, did you?

Some slow cookers contain hot spots or seem to get hotter on one side. If yours has this issue, rotate the inner pot every few hours as your food cooks.