Food Love
10 Types of Cheeses to Know When You Want to Sound Like an Expert
Primary Media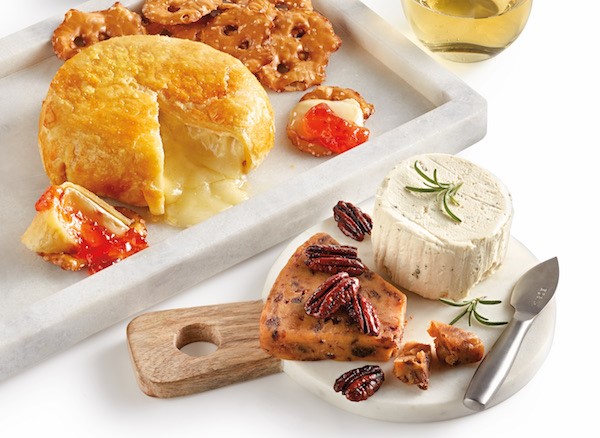 Description
There are a few different ways to categorize cheese. Some do it by origin; others by how it's made. The American Cheese Society, however, does it by family, which we like. Here are 10 families of cheese to know, love, and eat often.
Fresh Cheeses

Fresh cheeses are young cheeses that have not had time to ripen or mature. They can be eaten within a few hours, and tend to have a short shelf-life due to a high moisture content. Their tastes have been described as milky, lactic, sweet, or citrus. Examples include fresh cream cheese, fresh mozzarella, fresh goat cheese, or fresh feta cheese.

Bloomy Rind Cheeses

The term "soft-ripened" is used to describe cheeses that ripen from the outside in. The most common soft-ripened cheeses have a bloomy rind and a very soft interior. These include cheeses such as brie and camembert. 

Washed Rind Cheeses

A sub-category of soft-ripened cheeses, washed rind cheeses are known for their characteristic aroma. In fact, washed rind cheeses are considered some of the strongest smelling, yet sweetest tasting cheeses. They're called washed rind cheeses because they're washed with a brine solution containing a bacteria called Brevibacterium linens, which is responsible for the cheese's robust flavor. Their exterior can be orangey-pink to brown. Examples include authentic Haxaire Munster made in the Munster Valley of Vosges Moutains, Winnimere by Jasper Hill Farm, and Vermont Farmstead Brickhaus Tilsit. 

Hyvee Culinary Expert Tip

Washed rind cheeses are often overlooked for cheese boards. Try Limburger on your next board. When you taste it with the rind, it has the flavor of a crusty bread smeared with butter. No cracker needed.

Semi-Soft Cheeses

Semi-soft cheeses have a smooth, generally creamy interior with little or no rind. They have a high moisture content and typically have a buttery or light sour cream flavor. They're great for snacking, melting and sandwiches. Havarti, Monterey Jack, and Point Reyes Toma are among this family.

Dutch Cheeses

Gouda and Edam are perhaps the most commonly known examples of Dutch cheese, and are named after the towns in Holland where they were originally made. Traditional Holland Gouda is made from cow's milk and develops a caramel sweetness as it ages. Dutch cheeses usually have wax rind and fruity, buttery aroma. 

Cheddar

Cheddaring is a process during cheesemaking when blocks of curds are piled on top of each other to expel moisture. The curds are then put through a mill and ground into small pieces then poured into molds and pressed. This gives it a dense, often crumbly texture. However, different styles and aging can result in different flavors, ranging from very mild to extremely sharp and complex.

Firm Cheeses

Firm cheeses are pressed to remove as much of the whey and moisture from the curds as possible so the cheeses will keep longer. They may be matured 12 weeks or years. Manchego is a popular style, known for its firm texture and rich buttery flavor.

Alpine Cheeses

Alpine cheeses were traditionally made in remote regions of the Jura Mountains and the Italian Alps. Each region developed its own unique style due to herd sizes, remoteness and local preferences. They are sometimes recognized by the holes or "eyes" that are formed during the maturing process, although not all Alpine cheeses have them. Baby Swiss, Emmentaler, Fontina, Gruyere, and Jarlsberg are examples of Alpine cheeses.

Grana Cheeses

Grana cheeses are hard cheeses brined in salt baths for up to 20 days and then pressed in large molds and aged for several months up to seven years. This is what gives them a very strong, compacted, salty flavor and dry, crumbly texture. Popular examples include Parmesan, Pecorino and Asiago.

Blue Cheeses

Blue cheeses are a form of soft ripened cheese that have either been inoculated or natural mold has grown within the cheeses paste. The promotion of mold on the inside of the cheese is done by piercing the cheese with long needles to create air passages that allow mold to grow. That's why you see blue veins throughout the cheese. Blue cheeses often have a higher salt content to help preserve them and prevent bad bacteria from growing. Gorgonzola and Roquefort are two well-known examples.