Entertaining
8 Types of American Cheese That Aren't What You Think
Primary Media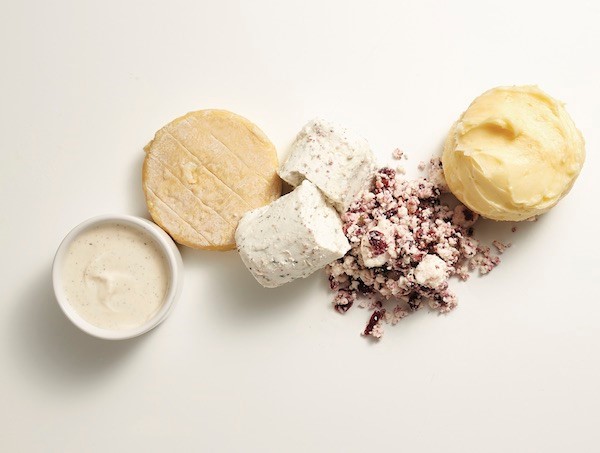 Description
May is American Made Cheese Month. But when we say American cheese, we mean artisan cheese produced in America by some of the finest cheese makers in the world—not the processed orange singles. Today, American cheesemakers are creating products with quality and flavor that rival European cheeses.
Below are some favorite award-winning cheeses from the New England area, Wisconsin, and California—ranging from affordable to splurgy. 
Point Reyes Toma Cheese

Pair this semi-hard California cheese with sweet fruits. 

Vermont Creamery St. Albans

Pair this aged cheese with a sour beer or tart Granny Smith apples. 

Hyvee

Culinary Expert Tip

The flavor of Vermont Creamery cheese is unique, due to the combination of both cow's and goat's milk. The type of rind used results in a gentle flavor for pairing exceptionally well with fruit preserves.

Rogue Creamery Caveman Blue Cheese

This award winner is surprisingly sweet and fruity with slight vanilla tones and a texture like butter. 

Cabot Vermont Sharp Cheddar

This affordable cheddar pairs well with sourdough bread and fresh pears.  

Milton Creamery Prairie Breeze

Sweeter than typical cheddar, this cheese has a flaky texture and occasional pockets of flavor crystals.

Roth Kase Butterkase Cheese

This mild, buttery cheese took third place in the 2017 American Cheese Society awards. 

Pleasant Ridge Reserve Cheese

In the higher price range, this award-winning cheese is richly flavored with complex layers of caramel and a tart fruitiness. 

Montchevre Goat Logs

Add this to your holiday shopping list. It's got a sweet and savory cranberry flavor that's excellent on turkey sandwiches or autumn salads.