Food Love
Certified Cheese Professionals Share Tips from Behind the Cheese Counter
Primary Media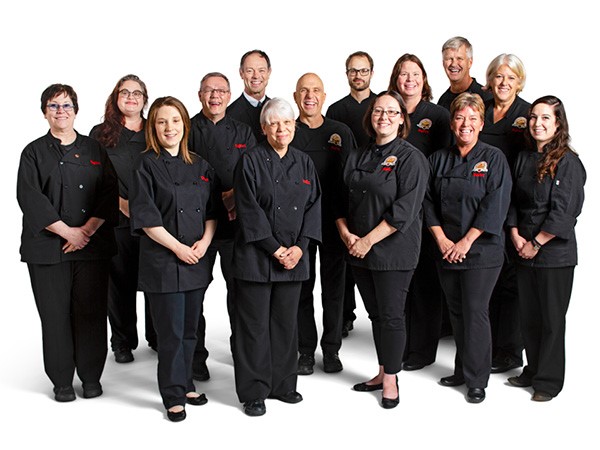 Description
After rigorous training and exam preparation, each of the professionals below has earned the credentials of Certified Cheese Professional from the American Cheese Society. Fewer than 1,000 people worldwide hold the status of CCP, and we're proud to recognize them as part of the Hy-Vee team. 
Learn more about Hy-Vee's artisan cheese in our Cheese Guide.
Chris Luken, CCP, Cedar Rapids, IA

Best Advice for Trying Something New: Taste it twice! The first taste acclimates your palate, so the second taste is more complete in terms of texture, aroma, and flavor, because the senses are more prepared for what's coming.

Favorite Cheese Right Now: Landaff. This New Hampshire made cheese, which undergoes affinage (cheese ripening) at the cellars at Jasper Hills, is unlike any other cheese in my current selection. It's based on a welsh style cheddar known as Caerphilly. The flavor lingers on your palate like a cheese custard with notes of a brulee-like milkiness. 

Why Hy-Vee? Coming from a specialty store in Madison, Wisconsin, to Winona, Minnesota, was quite a change, but I stay with Hy-Vee because of their commitment to grow the specialty cheese selection, the in-depth training they provide, and the steadfast support I've had from store directors!

Best Lesson to Share: Take a few minutes to look up where your cheese came from, learn about the cheesemakers, why they chose to make that kind of cheese, and the history behind it. This connection helps understand the complexities in specialty cheese vs. a commodity product.

Karen Lange, CCP, Rochester, MN

Best Advice for Trying Something New: Know what it is about your favorite cheese that you like. Then your cheese specialist can help you find something similar, but with a twist.

Favorite Cheese Right Now: St. Agur, with its triple creaminess and its mild to sharp blue flavor, it's great on a burger or a cracker.

Why Hy-Vee? So many opportunities. I started as a shift manager and then became a deli manager, and now a Certified Cheese Professional. I love cheese, so it has become my passion. There is so much to learn and know and so many things to do with it. It's never boring.

Best Lesson to Share: If you don't like a cheese the first time, don't give up on it. As your palate develops, the cheese may become your favorite. Wait a few months and try again.

Kathy Scheer, CCP, ACS Certified Cheese Sensory Evaluator, New Hope, MN

Best Advice for Trying Something New: Go for it!! It's cheese. You can't go wrong. I try to advise that cheese isn't just for snacking, because there are so many ways to use cheese in cooking.

Favorite Cheese Right Now: When a cheese delivers more than what I anticipated, it has a wow factor. Recently I was wowed by Vermont Creamery Clover Blossom Honey Goat Cheese Log. I'm super picky about my honey but this one made my taste buds dance. And I keep thinking about it.

Why Hy-Vee? I wanted to work for a company that shared the same retail values that I do. I love the fact that I have autonomy and am responsible for the Cheese Shop, from customer service to buying to managing all aspects of merchandising. Oh, and I also love trying new cheeses and learning every day.

Best Lesson to Share: Try a different cheese every time you shop. Start by trying a different cheese from each family then zero in on a couple of families to really explore. I also like to encourage trying cheeses produced from local resources. 

Sarah Buschkamp, CCP, Coralville, IA

Best Advice for Trying Something New: If you're worried about buying a whole piece of cheese, talk to our cheese specialist about having a smaller piece cut for you. And try not to judge a cheese by its look. Some of the tastiest cheeses aren't the prettiest. 

Favorite Cheese Right Now: Cypress Grove Purple Haze. I love goat cheese, and this creamy cheese is filled with fresh lavender and wild fennel pollen, creating a truly unique flavor.

Why Hy-Vee? I love trying new cheeses and pairings with my customers. It's a great feeling to share in a new experience with them. Plus, both my parents worked for Hy-Vee and it's a culture I grew up with. It's like a perfect fit.

Best Lesson to Share: I would like everyone to know how hard the farmers work to produce these beautiful cheeses. Every wedge they buy is a reflection of the cheesemaker's passion for their craft. 

Katie McKenna, CCP, Des Moines, IA

Best Advice for Trying Something New: I would encourage customers to strike up a conversation with their cheese professional. 

Favorite Cheese Right Now: Jasper Hills Harbison from The Cellars

Why Hy-Vee: I'm always really happy to talk about cheese and help customers discover something they love.

Best Lesson to Share: When putting together a cheese board, know your audience; how adventurous are they. Don't be afraid to try something new. 

Diana C. Weir, CCP, Omaha, NE

Best Advice for Trying Something New: Talk with your cheese specialist about your flavor preferences. How do you plan to use the cheese and what will you serve with the cheese? Your cheese professional will guide you to some great choices and provide samples for you try.

Favorite Cheese Right Now: Aged goudas are one of my favorite cheese groups. Their complexity and slightly granular texture are a wonderful treat, especially for snacking.

Why Hy-Vee? Hy-Vee is a customer-centered company, and my greatest joy is to help a customer discover a new cheese that brings them joy.

Best Lesson to Share: Cheesemaking is an art with the finished product mirroring the maker's passion for their product. Each nibble is an adventure for the taster.

Tina Knutson, CCP, Marion, IA

Best Advice for Trying Something New: Start with your favorite flavor profile—cheddar, gouda, havarti, etc. Then try a different version of it: aged, cave aged, grass-fed, or one from a different region. You can ask your cheese specialist for a sample.

Favorite Cheese Right Now: Fontal. I find it extremely versatile, from snacking to cooking, and it's a perfect melting cheese for mac & cheese. 

Why Hy-Vee? I choose Hy-Vee because of the family atmosphere. Plus, the ability to go through the CCP process has given me the tools to be able to better serve and teach my customers with compete confidence. 

Best Lesson to Share: Take time to taste the cheese, not just consume it. Artisan cheese has hidden flavor profiles that can get missed. 

Lee Anderson, CCP, Omaha, NE

Best Advice for Trying Something New: If there are not samples available, you can ask to try something. Sampling is also a great way to build trust with your cheese specialist.

Favorite Cheese Right Now: It's like asking which kid I like the best. In my frig at home, I have herb D'affinois brie, Halverson, Point Reyes Original Blue, and Merlot Bellavitano. Now if you ask me what my customers' favorite is, I can tell you the Merlot Vellavitano from Sartori.

Why Hy-Vee: In a word, passion. I'm telling you, cheese excites us.

Best Lesson to Share: Each cheese has an amazing story. And it's our good fortune to be able to share those with customers.

 

Merrill Klemm, CCP, Cedar Rapids, IA

Best Advice for Trying Something New: Try it with an open mind. Use as many senses as possible, especially touch, smell, and taste. Taste it carefully and analyze what you are sensing. Think about pairings that it might go with, both food and drink. Pairings allow you to enhance the cheese experience. 

Favorite Cheese Right Now: Blue cheeses have always been a favorite. All of the Rogue Creamery Blue Cheeses rank high with me. Caveman Blue is still my overall favorite.

Why Hy-Vee? I enjoy working with customers and educating them about cheese.  

Best Lesson to Share: Be open to trying everything. Don't limit yourself with preconceived notions or ideas. 

Twyla Carson, CCP, Omaha, NE

Best Advice for Trying Something New: Taste. Taste a different kind of cheese within a group you like, such as gouda or cheddar. By tasting different ages, for example, you get more complex flavors.

Favorite Cheese Right Now: Reading Raclette from Vermont and anything from Beehive Creamery, or Red Dragon made with mustard seed and ale. 

Why Hy-Vee? I love all my customers, and helping them discover a long-forgotten cheese profile to something new and trendy. I also like the family-comes-first culture.

Best Lesson to Share: Try tasting the same cheese from different areas and compare the similarities and differences. 

Tyler Coenen, CCP Ankeny, IA

Best Advice for Trying Something New: Experiment! Try new styles of cheese and new milk types. You may not enjoy everything, but the only way to find a new favorite is be adventurous. Try pairing with accompaniments that you have never considered before. You will be shocked with how many new things you will start to love.

Favorite Cheese Right Now: Deer Creek's The Stag. It's everything you want in a cheddar. Sweet, nutty, caramel goodness. It's the first cheese I ever fell in love with and it's still right there at the top.

Why Hy-Vee? Hy-Vee has the best selection around, and is backed by a staff of cheese professionals that are passionate, knowledgeable and flat out eager to talk about cheese. You won't find this kind of variety with this kind of dedication to service anywhere else.

Best Lesson to Share: If you are hesitant to purchase a specific cheese because of the price tag, or because you think you may not like it, talk to your cheese specialist! Our specialists offer samples of any cheese and can tell you all about their flavor profiles. Another option to buy smaller pieces. Buying a larger variety of smaller pieces is a great way to expand your palate.

Don Fisher, CCP, Muscatine, IA

Best Advice for Trying Something New: Your local Hy-Vee cheese specialist is there to give advice and offer samples. The most pleasurable part of my day is when I can offer my expertise to customers, and they can take home the most pleasurable part of their day, a new cheese to enjoy. Cheers to ya!

Favorite Cheese Right Now: There isn't a cheese out there I don't appreciate. Although, there is usually a wedge of Danish Blue Cheese in my fridge. A sip of Sauternes wine between nibbles is a must.

Why Hy-Vee? The Hy-Vee cheese specialists (us cheese geeks) and our variety cheeses are the creme de la creme of your cheese needs. You'd be hard pressed to find higher quality of service, product knowledge, and professionalism anywhere.

Best Lesson to Share: As you age and mature, so does your palate. What tasted like "The feet of the Gods" years ago may become your favorite go-to cheese.

Meredith Davis, CCP, Cedar Rapids, IA

Best Advice for Trying Something New: Not all cheeses are created equal. If you have no liked gouda or blue in the past, give it another chance. Each creamery and wheel of cheese is different.

Favorite Cheese Right Now: Holland Parrano. The gouda that thinks it's Italian. The best flavor comes out when it's room temperature.

Why Hy-Vee? Hy-Vee cheese specialists like to talk and share cheese knowledge. We know what makes each cheese unique.

Best Lesson to Share: Ask for a cut of the wheel the cheese specialist is cutting on the counter currently. The cheese tastes the best when freshly cut.