Primary Media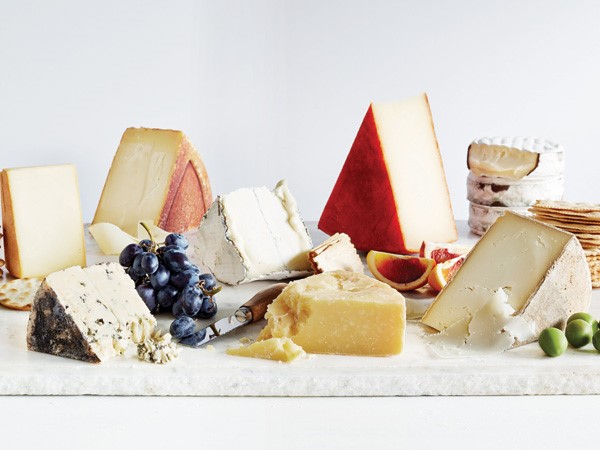 Description
These award-winning cheeses were made for sharing and pairing and are highly recommended by our cheesemongers and certified cheese professionals. So, go ahead, and pick up one of these cheeses on your next trip to Hy-Vee, or order on Aisles Online.
Burrata, BelGioioso Cheese

Think mozzarella, but softer and creamier. Burrata is spreadable like cream cheese. This milky variety is the perfect canvas for a drizzle of extra virgin olive oil and a dash of salt and pepper.

Reading, Spring Brook Farm

A semisoft raclette, this Swiss-style cheese melts easily and is traditionally spread on bread or over roasted potatoes. It has a buttery, nutty flavor and delightfully smooth texture.

Caveman Blue, Rogue Creamery

A blue cheese made with cow's milk, Caveman Blue has all the funkiness of traditional blue cheese with some sweeter flavor notes such as tropical fruit and vanilla.

Saxony Alpine Style, Saxon Creamery

Alpine-style is another way of saying Swiss-style, so think of Saxony as a Swiss cheese from Wisconsin. It's richer and a bit creamier but has similarly sweet and nutty flavors.

Humboldt Fog, Cypress Grove Chevre

This beautiful cheese is characterized by the black line that runs through its center. This marking is actually a layer of black vegetable ash that divides the top and bottom of the wheel.

Reypenaer 1 Year Aged Gouda

A firm and slightly crystallized Gouda that still melts in the mouth with a caramel-y finish.

Sartori Merlot BellaVitano

Rich and creamy BellaVitano soaked in a Merlot wine for a Parmesan-like flavor with an extra plummy tang.

Harbison Brie, Cellars at Jasper Hill

The first thing you'll notice about Harbison is the spruce bark wrapped around the wheel, which helps the cheese keep its shape. Inside, the cheese is meltingly soft and quite spreadable.

Avonlea Clothbound Cheddar, Cow's Creamery

Instead of creating a firm rind, the makers of this Cheddar use cloth to wrap their wheels of cheese. This allows the Cheddar to breathe during its aging process.

Colby, Widmer's Cheese Cellars

At first glance, you might confuse this cheese with a Cheddar. While they look the same, Colby cheeses are known for a milder, creamier taste that is sweet and nutty.