Primary Media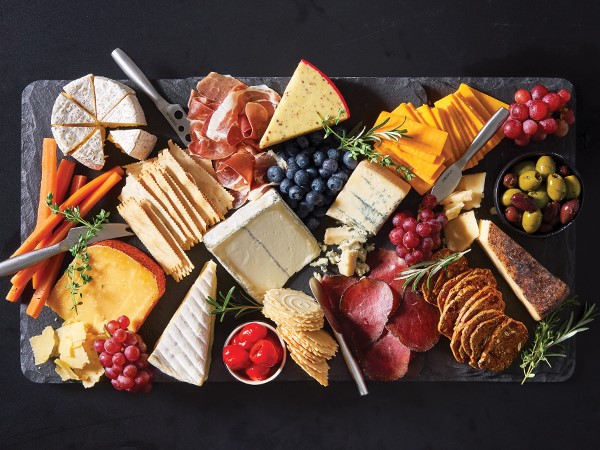 Description
If you're making a cheese board for the holidays, or just for snacking, you'll want to include a few of these cheeses. We've even got pairing ideas including fresh fruits, nuts, spreads, crackers, and charcuterie to make your board the easiest-yet. 
To learn more about cheese, view our Hy-Vee Cheese Guide!
Cowgirl Creamery Mt. Tam

Soft, buttery, triple-cream cheese encased in a white bloomy rind. It has hints of mushrooms, grass and hay. Pair with fruit jams and crackers. 

Caves of Faribault Jeffs' Select Gouda

Full-bodied cheese with a distinct nutty flavor, smooth caramel notes, and a creamy finish. Pair with figs and other fruits, crackers, spicy nuts, and mustard.

Fromager D'Affinois Brie

Smooth rich cheese with a lovely taste of fresh butter and earthy mushrooms. Pair with apples, grapes, walnuts, and toasted baguette slices. 

Somerdale Red Dragon Cheddar

Smooth, firm, and spicy with plenty of bite. This cheese is flavored with whole grain mustard seeds and Welsh brown ale. Pair with salami, pickles, olives, apple slices, and soft pretzels. 

Point Reyes Bay Blue

This cheese has a natural rind and a fudge-like texture. Its flavor is mellow and sweet with a caramelized finish. Pair with berries, whole grain crackers, and pancetta. 

Westminster Rustic Red Cheddar

Slightly crumbly texture, yet incredibly creamy on the tongue. It has nutty, sweet, caramelized notes. Pair with grapes, cashews, pears, cherries, and crackers. 

Sartori Espresso Bellavitano

A creamy textured sweet cheese hand-rubbed with freshly roasted espresso. Pair with hazelnuts, wafer crackers, and fresh berries.