Food Love
6 Insider Tips for Making a Charcuterie Board ... for Cheap
Primary Media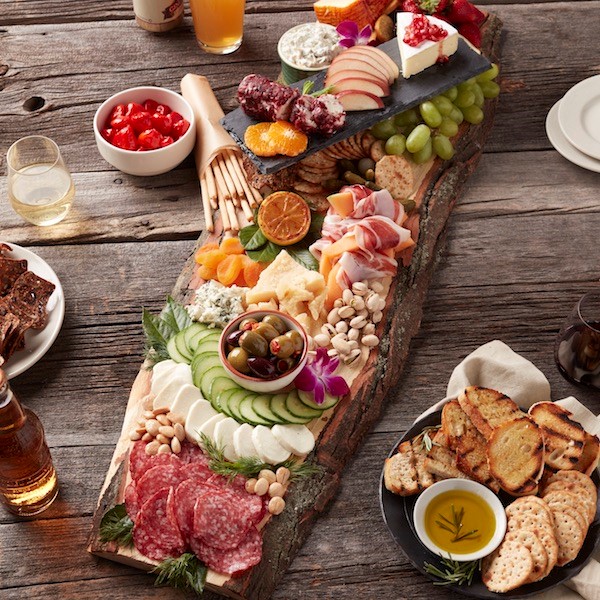 Description
A charcuterie board is basically a fancy way to serve meat, cheese and crackers. And there's no right or wrong way to do it. For entertaining, we like to splurge a little and opt for things like mortadella or pancetta. But for everyday life, and by that we mean dinner (is charcuterie board Wednesday a thing?), you can put together a seriously delicious board for very cheap. Just follow these tips.
Soiree Cheese

We agree that the artisan cheese selection can be overwhelming, especially if you're on a budget. So remember this insider tip: Look for the Soiree label. These cheeses are sourced from around the world and use traditional methods and ingredients, but for a price that's way lower than similar styles. If you're not sure about one, you can always talk to your Hy-Vee cheese specialist.

Fresh & Dried Fruits

Head to the bulk section and get just the right amount of dried fruit. You don't need a whole bag of dried apricots, just a few to round out your board. For fresh fruits, grapes and apples are always easy on the wallet.

Private Label Crackers

For crackers, the Chesapeake Cracker Company is pretty much the only kind we recommend. They look and taste like fancy water crackers, but don't cost near as much. The other option is to buy a long baguette and cut it into crostini-size pieces. You can easily pop these in the oven to toast them, or better yet, throw them on the grill.

Meats

You don't need fancy charcuterie. I mean, it's definitely nice, but who's gonna deny sliced summer sausage with cheese on a cracker? You can also get away with rolled deli meat. Especially if it's wrapped around cream cheese.

Sampler Packs

You can get a great deal when you buy sampler packs, like the Columbus Charcuterie Sampler or the Hy-Vee Party Tray Cheese. Then you can build around these items with other affordable items: grapes, crackers, sliced vegetables, etc.

Olives

A ramekin-sized portion of olives on your board completes everything. Look for the Hy-Vee Manzanilla Olives in a jar. They don't cost much but they offer something briny that every cheese tray needs. And if you don't like olives, use pickles instead.