Food Love
8 Types of Whiskies for Every Budget
Primary Media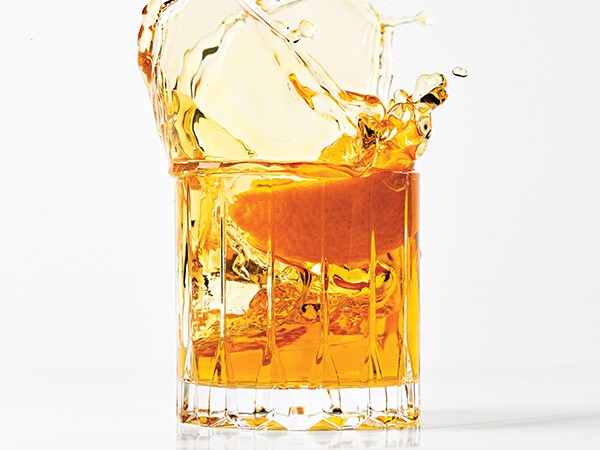 Description
Whiskey is an umbrella term for distilled alcoholic drinks made from fermented grain mash, and dates back over 500 years! Variations (scotch, bourbon, Tennessee, and rye) are based on the types of grain used, length of aging, the casks employed in that process, and the location of the distillery. Now that you know the basics, we know the whiskey aisle can be confusing. That's why we've picked out the best whiskeys for your budget. 
Scotch

Made in Scotland from malted barley, sometimes also wheat or rye. Aged in oat barrels at least 3 years.

$$: Johnnie Walker Black Label— A blend of whiskeys aged a minimum of 12 years for smooth, deep character.
$: Monkey Shoulder— A smooth and rich blend of different single malts.

Bourbon

Made in the U.S., usually Kentucky, from at least 51% corn and aged in new charred oak barrels.

$$: Angel's Envy— Hand-blended in batches of 8 to 12 barrels at a time; finished in ruby port casks.
$: Four Roses Bourbon— A carefully mingled mix of mash ingredients and proprietary yeast strains.

Tennessee

Made in Tennessee from at least 51% corn, filtered through charcoal before barrelling and aged in new charred oak barrels.

$$: Uncle Nearest 1856 Premium Whiskey— Distilled in small batches and named World's Best in 2019 and 2020.
$: Jack Daniel's Old No.7— Charcoal-mellowed and matured in handcrafted barrels for a balance of sweet and oaky flavor. 

Rye

Made in the U.S. and Canada from at least 51% rye and aged in new charred oak barrels.

$$: Whistlepig Rye— A blend of straight rye whiskeys, aged 10 years, for the most awarded rye whiskey in the world.
$: Templeton Rye— Smooth, spicy, and bold rye whiskey with a balanced finish.