Primary Media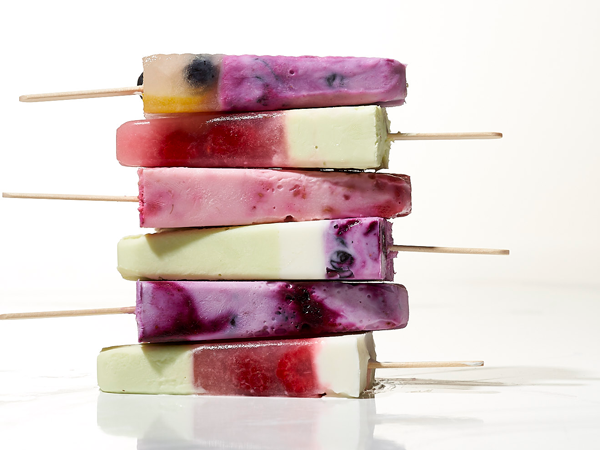 Description
The National Academies of Sciences, Engineering and Medicine recommends around 11 eight-ounce cups a day for women and 16 cups for men. That includes plain water, coffee, tea, and water derived from foods. In fact, many foods contain more than 90 percent water—such as many of the foods in these healthy recipes. 
Frozen Yogurt Pops

Greek yogurt and sports drinks both contain sodium and potassium, two important electrolytes that can help you rehydrate. Mixing them together in a frozen, icy treat is one of our favorite ways to hydrate after a solid workout. In addition to water, of course.

Cucumbers

Most people are surprised to learn that cucumbers are about 96 percent water. Cantaloupe hovers around 90 percent. That's why we like this combination for a refreshing summer salad. 

Watermelon

Watermelon, as you might guess from the name, is about 92 percent water. Use it to make slushies, or better yet, a watermelon pizza. 

Tomatoes

Tomatoes are loaded with water, about 94 percent. As if you needed another reason to love all things caprese. 

Veggie Noodles

Zucchini is another favorite when it comes to foods that hydrate; it's nearly 95% water. Good news for all the zoodles lovers.

Smoothies

Smoothies are kind of a no-brainer, since most beverages are considered hydrating. However, this smoothie contains two electrolytes that are good for rehydrating—sodium and potassium. 

Bell Peppers

We were surprised to learn that something so crunchy could be mostly water. About 94 of a pepper is water. 

Lettuce

You may have heard that lettuce is mostly water, and that's mostly true. Lettuce is at the top of the list with a 95-percent water content.

Strawberries

Strawberries are about 91 percent water—whether you eat them, drink them, or make soup. Yes, soup. One of our most under-appreciated recipes, this Chilled Strawberry Soup can be served as a sweet appetizer, fun snack, or light dessert.