Food Love
14 Street Food Breakfast Recipes We Can't Stop Craving
Primary Media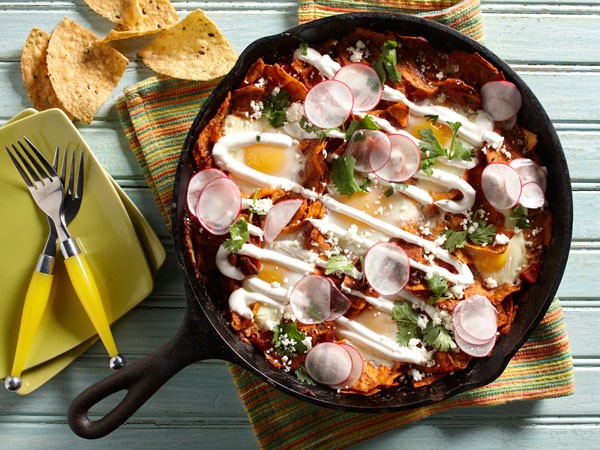 Description
We don't make these recipes an everyday habit, but on the weekends, when there's not a food truck in sight, there's no shame in making your own street food. 
Breakfast Nachos

Breakfast pizza is a thing. And so are nachos.

Harissa Chilaquiles

Say, "hello" to your new favorite breakfast recipe. Tortilla chips drenched in a slightly spicy harissa-tomato sauce topped with oven-baked eggs and fresh veggies.

Nutella-Stuffed Pancakes

If you're only making pancakes every so often, they should probably be stuffed with nutella. 

Loaded Pancake Sandwiches

Not as bad for you as it looks, this is actually a makeover of the fast food version.

Chicken and Waffles with Spicy Maple Syrup

This one's all about the spicy maple syrup on top.

Chipotle Pork Barbecue Breakfast Tacos

Tacos for breakfast? Absolutely.

Flaky Biscuit Breakfast Sandwich

If you're a biscuit person instead of an English muffin person, this one was built for you.

Southwestern Breakfast Burrito

We could eat these for breakfast, lunch, or dinner—all day, every day.

Grilled Donuts

It's the novelty ice cream donut-wich you should try at least once. 

Asparagus Omelet Breakfast Sandwich

You can actually make this quicker than it would take to order one. 

Berry-Granola Parfaits

Stay on the sweet and heathier side of the food truck with these Berry-Granola Parfaits.

Huevos Rancheros

Most often, it's served with fried, sunny-side up eggs, but this no-fuss version scrambles them.

Dossants

A cross between a donut and a croissant gives us this beautiful baked good.

Berry-Good Spiced Crepes

Why wait in line? You can make your own sweet combination at home.