Primary Media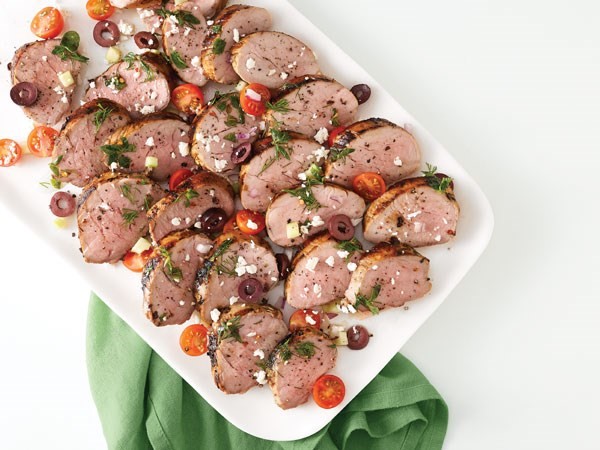 Description
When you buy Hy-Vee Midwest Pork, you're supporting local family farms. We source from family-owned farms throughout Iowa, Minnesota, South Dakota, Nebraska, Kansas, Missouri, Illinois and Wisconsin. So, when you see the Hy-Vee Midwest Pork sign, stock up and check out some of our best recipes. 
Sheet Pan Pork Chops

Can't even tell you how much we love when the whole meal comes together on one sheet pan. 

Korean Barbecued Pork Tacos

This one makes your slow cooker do the work. Then you can take it a step further by using the juices to make a sweet and savory sauce to drizzle over the meat before topping it with a quick-pickled slaw. 

Grilled Greek Pork Tenderloin

Give yourself 30 minutes to marinate ... it's worth it in the end. Then bring it all together with feta, olives, and fresh dill. 

Instant Pot Pork Tamales

Spend a Sunday making a batch of tamales. Then stash the extras in the freezer for your next Sunday feast.

Stir-Fried Cauliflower Rice with Sriracha-Marinated Pork

Ok, but when you need something quick and healthy that makes dinner tonight and lunch the next day, this is it.

Cast Iron Pork Loin with Romesco Sauce

The Romesco sauce can be made quickly in the blender, and the pork and potatoes all cook together in a cast iron. Watch the video in the recipe to get a better idea of how easy and fantastic it is. 

Instant Pot Barbecue Ribs

If you've got an Instant Pot, you're in luck. Pressure cook ribs for 30 minutes and you'll have rib meat that falls off the bone and practically melts in your mouth.

Banh Mi Pork Sandwiches

Here we show you how to do these full-flavored sandos in the Instant Pot or in a slow cooker.

Pecan-Crusted Pork and Beet Salad

This salad has it all ... toasted pecans, sweet roasted golden beets, crisp apple slices, and creamy, earthy goat cheese. Or feta if you prefer. We can't believe it's all less than 350 calories.

Honey Mustard Pork Chops

When you want a straight-forward 5-ingredient recipe that won't let you down.

Pilsner-Brined Chops

These require some advanced notice since they brine in the refrigerator for 8 to 24 hours. But the flavor is unreal.

Prosciutto-Wrapped Pork Loin with Red Hot Apples

For the pork, just wrap and roast. For the apples, we actually cook them with cinnamon candies to impart a pronounced cinnamon flavor.

Easy Sweet-and-Spicy Grilled Pork Tenderloin

A little sugar and pantry spices are all this recipe needs. 

Country Pork Ribs

For best results, coat ribs with a dry rub of an all-purpose seasoning (for testing, we used Cookies Flavor Enhancer) and let them sit in the refrigerator for 8 hours or overnight. 

Easy Oven-Barbecued Pork Chops

For those lousy-weather days when the grill can't come out and play, make this simple baking method your back-up plan.