Entertaining
19 Red Recipes Perfect for Celebrating Juneteenth
Primary Media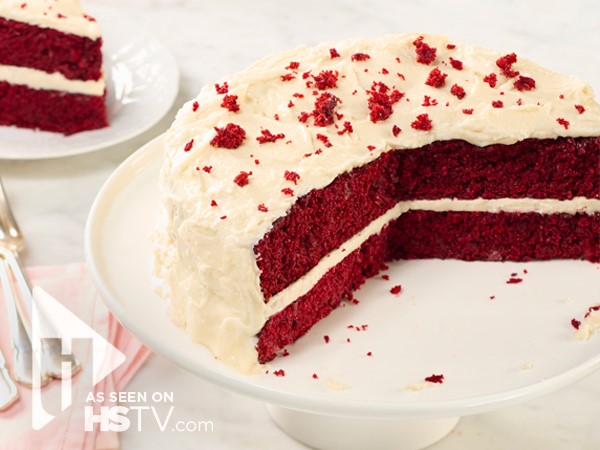 Description
Juneteenth celebrates the official end of slavery and is the longest running African American holiday. One of the main colors of the holiday is red to symbolize strength, perseverance, and spirituality. So we've rounded up 19 red recipes that are perfect for June 19! Keep reading to learn more about this important date and get food and drink inspiration.
Strawberry Pretzel Bars

While slaves were technically freed on January 1, 1863, it took two years for the news to reach Texas. 

Strawberries are a traditional food to eat on Juneteenth! These delicious bars are a sure winner at any picnic or family gathering. 

Smoked Baby Back Ribs

The Union Army arrived in Galveston, Texas, on June 18, 1865. The next day, all 250,000 slaves in Texas were freed.

Celebrate this momentous day with this ribs recipe that's perfect for a cookout.

Red Velvet Cake with Vegan Cream Cheese Frosting

Red velvet cake is a traditional Juneteenth dessert, and with this recipe from HSTV's Vegan & Veggie Ventures with Coco & Lala, you don't have to feel the least bit guilty about indulging.

Watermelon-Strawberry Pops

Juneteenth is also known as Emancipation Day, Freedom Day, Jubilee Day, and Liberation Day.

These ice pops combine two of our favorite red foods and are the perfect cool down on a hot summer day.

Lobster Mac and Cheese

Many refer to Juneteenth as America's second Independence Day, and that certainly deserves the decadence that this mac and cheese recipe provides.

Celebration Strawberry Spritzer

Jim Crow laws and the Great Depression in the early 20th century caused Juneteenth celebrations to decline, but today they're back and stronger than ever. This spritzer recipe will bring the good time to your holiday gatherings.

Strawberry Daiquiri Poke Cake

The Juneteenth holiday really gained prominence during the Civil Rights movement, thanks to Martin Luther King, Jr. Make your celebrations memorable with our tropical poke cake recipe. 

Spiked Watermelon Agua Fresca

Because Juneteenth originated in Galveston, Texas, the state was the first to declare it an official holiday. Raise your Spiked Watermelon Agua Fresca to Texas!

Smoky Baby Back Ribs with Blackberry Barbecue Sauce

Popular Juneteenth festivities include street fairs, cookouts, family reunions, park parties, and historical reenactments. These ribs would be perfect for any of those events!

Grilled Watermelon with Minted Salsa Bites

Other Juneteenth traditions include reading works by noted African American authors, such as Ralph Ellison and Maya Angelou. A grilled watermelon dish would be the perfect light pairing for your own Juneteenth reading.

Grilled Bang Bang Shrimp Skewers

The Juneteenth Flag of Freedom is half red and half blue with a star in the middle, taking elements from both the American and Texan flags. Bring the red—and the zest—to your celebration with these shrimp skewers.

Red Velvet Waffles

According to African-American historian and Harvard professor Henry Louis Gates, Jr., Juneteenth has become "an occasion for gathering lost family members, measuring progress against freedom, and inculcating rising generations with the values of self-improvement and racial uplift."

And that calls for celebration. Start your Juneteenth off right with Red Velvet Waffles! 

Caprese Skewers

One great place to visit for this holiday: Emancipation Park in Houston, Texas. In 1872, a group of former Texas slaves purchased the land with $800. Today, it's the oldest park in the state.

Regardless of where you'll be, Caprese Skewers are an easy and fancy-looking dish to bring to your festivities.

Grilled Watermelon with Avocado, Cucumber and Feta Salad

"We are not makers of history. We are made by history." -Martin Luther King, Jr.

However you commemorate this day in history, be sure to care for your health with this light and nutrient-rich salad.

Grilled Shrimp Po'Boy

The Juneteenth holiday gained traction as freed people migrated to different parts of the U.S. But this Grilled Shrimp Po'Boy recipe fits in any state—everyone loves it!

Watermelon-Vodka Slush

Fun fact: The average temperature in Galveston, Texas (where Juneteenth originated) on June 19 is 87 degrees! It's usually about as hot in the Midwest, too, so you'll be glad you have this icy drink on hand.

Memphis Pork Baby Back Ribs

Barbecue has always been a highlight of the holiday due to its Texas roots. But we went to Tennessee for the homemade sauce and rub that gives these ribs so much delicious flavor. 

Pizza Margherita

In 2003, then-state senator Barack Obama cosponsored a bill that made Juneteenth a state-recognized holiday in Illinois.

This pizza might not feature a Chicago deep dish, but it's the perfect light recipe for outdoor summer parties.

Strawberry Moscato Cocktail

Today, Juneteenth celebrates African American freedom and achievement. Let's all raise our glasses to that!