Primary Media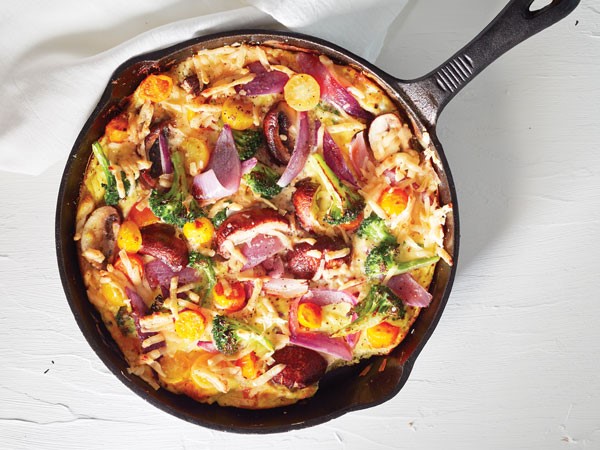 Description
With all the hype surrounding the ketogenic diet—which is high-fat, low-carb, and includes a moderate amount of protein—we wondered what kind of options exist for breakfast.
With carbohydrate-rich foods such as toast, cereal, oats, many fruits, and muffins off the menu, you're left with mostly breakfast meats and cheeses. But rather than load up on too much saturated fat, we rounded up a collection of more reasonable breakfast options. 
Breakfast Egg Cups

Two of these muffin-sized egg cups paired with a small amount of toasted nuts (for added fiber) will help you stay full through the morning. Plus, they're easy to meal prep for the week.

Veggie Frittata

While tempting, it's important not to overlook vegetables on a keto diet. Frittatas are great for sneaking in a few of your favorite veggies. 

Asparagus with Egg and Cheese Sauce

A veggie forward take on eggs and cheese, we like this low-carb option gives us a little fiber. 

Beef and Egg Breakfast Mug

Another easy-to-prep meal, you can fill these mugs in advance, then cover and keep them in the fridge until you're ready to nuke them in the microwave. 

Peas and Pancetta Frittata

Unlike most egg dishes, this combo includes peas for a little sweetness—giving it that slightly sweet and savory thing happening with the pancetta. 

Family Friendly Frittata

We know there are a few frittatas on this list ... they're quick, easy, and not terrible for you. This one includes milk, which gives the frittata more body—and more calcium—and not a ton of carbs. 

Instant Pot Hard Boiled Eggs

Because hard cooked eggs are an easy low-carb on-the-go snack or meal, we like to batch cook them in the Instant Pot.

Vegetarian Mushroom Frittata

Basically, frittatas are the new pizza on the keto diet. We like this one as a meatless option. 

Melon Wrapped in Prosciutto

If you're looking for something sweet and salty to round out your eggs, one of these prosciutto-wrapped melon slices should do the trick. 

Prosciutto Cheese Bites

If you're really missing the flakiness of pastry, try filling with mini phyllo cups with your favorite egg and cheese combination. The trick is to just eat one or two. 

Mini Cauliflower Bites

These cheesy, pizza-flavored bites have just 1 carb per serving. It's like the guilt-free version of pizza for breakfast.