Living: Family
9 Father's Day Cookout Recipes That Aren't Terrible for You
Primary Media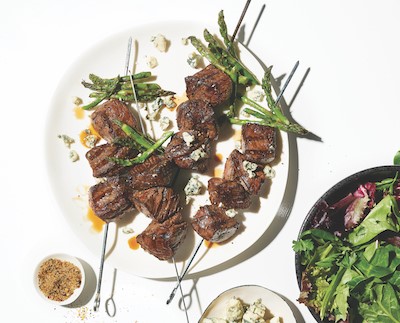 Description
You'd never know by tasting them, but these grilled-out recipes are actually good for you.
Moroccan Chicken Skewers

At only 250 calories per skewer, this gluten-free option is a light, low-sodium, yet flavor-packed option for a family cookout.

Summery Grilled Sweet Potato Salad

Loaded with nutrient-rich sweet potatoes, avocado, beans, and corn, this colorful side is an excellent source of fiber, as well as vitamins A and C.

Grilled Shrimp and Pineapple Salsa

It's an appetizer you can practically make a meal of, and it's also a nice gluten-free option.

Chimichurri Grilled Shrimp Skewers

This one is all about the sauce. It's light, fresh, and makes everything taste good. Try serving these skewers with brown rice or quinoa, drizzled with extra sauce.

Peppered Beef Kabobs with Blue Cheese Sauce

A special occasion calls for a special occasion kabob. Aka, a beef tenderloin kabob with blue cheese. 

Grilled Steak Burrito

This lightened-up burrito uses seasoned cauliflower rice and a Greek yogurt sauce for added fiber and protein.

Honey-Lemon Grilled Carrots

Coated with thyme honey-Dijon sauce and grilled for an extra smoky bite, there's really no better way to eat carrots.

Grilled Salmon Burgers

Swap out a beef burger for a spicy salmon patty with light tartar sauce, and we promise you won't have any regrets. 

Dessert Peach and Strawberry Tacos

Do dessert on the grill. Start by grilling strawberry and peach skewers and finish by tucking the warm fruit inside a snack-size tortilla with mascarpone cheese, honey, and cinnamon.