Primary Media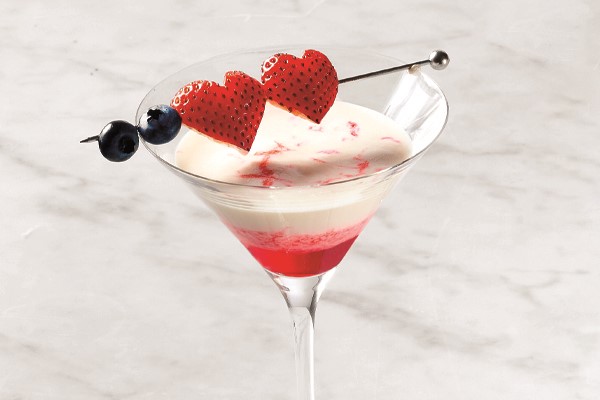 Description
Valentine's Day is all about celebrating your loved ones and having an excuse to indulge in something sweet and decadent. Whether these sweet dessert cocktail recipes are served in place of dessert or as a sweet nightcap, they'll have you seeing hearts. Especially if you're cheers-ing with someone you love.
For more recipes we heart, check out our Valentine's Day Guide!
Sparkling Wine Ice-Pop Cocktails

A fun way to keep your sparkling cocktail cold: add a frozen ice pop!

Sweetheart's White Chocolate Cocktails

Who needs chocolate-covered strawberries when you can have a layered white chocolate and strawberry cocktail?

My Sunshine Orange Blossom Cocktail

Go all-in on the floral theme for Valentine's Day by garnishing this orange-flavored My Sunshine cocktail with a rose made out of orange peels. See how it's done!

Sgroppino Dessert Cocktail

Prosecco and lemon sorbetto make a dreamy Italian dessert cocktail for you to enjoy at a fancy night in.

Chocolate Malt Ball Grasshopper Cocktails

After dinner mint, anyone? Creamy, minty, and chocolatey, this grasshopper cocktail will be your new favorite dessert!

S'More Wine-Tini

What s'more delicious than a s'more wine-tini? Sounds like the perfect chocolate dessert cocktail for us!

Affogato

Have your dessert... the Italian way. That's right, we're talking Gustare Vita gelato topped with espresso and amaretto liqueur.

Raspberry Mimosa Float

Add raspberry sherbet to Rosé Prosecco for a boozy float, perfect for whatever you're toasting to. 

Iced Irish Coffee

Serving coffee with dessert? May we recommend an Iced Irish Coffee?

Spiked Red Velvet Hot Chocolate

Who needs red velvet cake when you can have Spiked Red Velvet Hot Chocolate?