Primary Media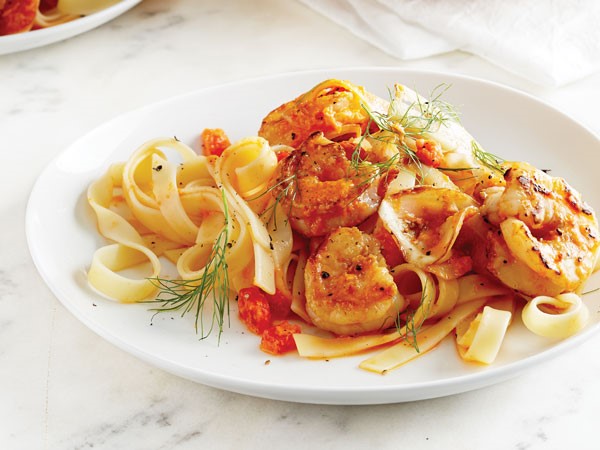 Description
You'll be shocked at what you can make for $20 or less. So go on, impress your date with a romantic homemade dinner—no reservation required. 
Shrimp Mac and Cheese

To make this dish feel even more decadent and expensive, use jumbo shrimp. 

Slow Cooker Mole Chicken

Chicken thighs are one of the most under-appreciated cuts in the meat department. Not only are they tender and hard to overcook, they're extremely budget-friendly. 

Red Pepper Shrimp

When frozen shrimp go on sale, stock up. It's an inexpensive way to make restaurant-quality seafood dinners, like this creamy shrimp fettuccine. 

Simple Roast Chicken and Veggies

Mastering the whole roasted chicken is not only impressive, it's inexpensive. Start with this simple chicken recipe.

Grilled Coffee Marinated Pork Chops

Pork chops and polenta are both inexpensive items that are easy to dress up. In this case, we used an espresso and brown sugar marinade on the pork and served it over a creamy parmesan polenta.

Fresh Pea and Asparagus Risotto

Risotto may sound intimidating, but it's actually a simple combination of rice, broth, butter, and cheese—all delicious, all affordable.

Simple Lobster Bisque

It sounds pricey but it's really not. It only takes a few of the indulgent items to make a family-size batch of this impressive bisque. 

King Crab Risotto

King crab can be on the pricey side, so be on the lookout for Hy-Vee seafood sales. Otherwise, you can just buy 1/2 pound of crab legs to make this King Crab Risotto. 

Mac and Cheese with Prosciutto

Here's a budget-friendly trick: Pick up a container of pre-made mac & cheese from Hy-Vee, then add herbs and prosciutto to make your own gourmet version. 

Slow-Cooker Beef Ragu

This recipe calls for flank steak, an affordable cut that works great in the slow cooker. Serve the ragu over a bed of your favorite pasta and top with fresh herbs. Voila!