Food Love
15 Ways to Make Tilapia Taste Really, Really Good
Primary Media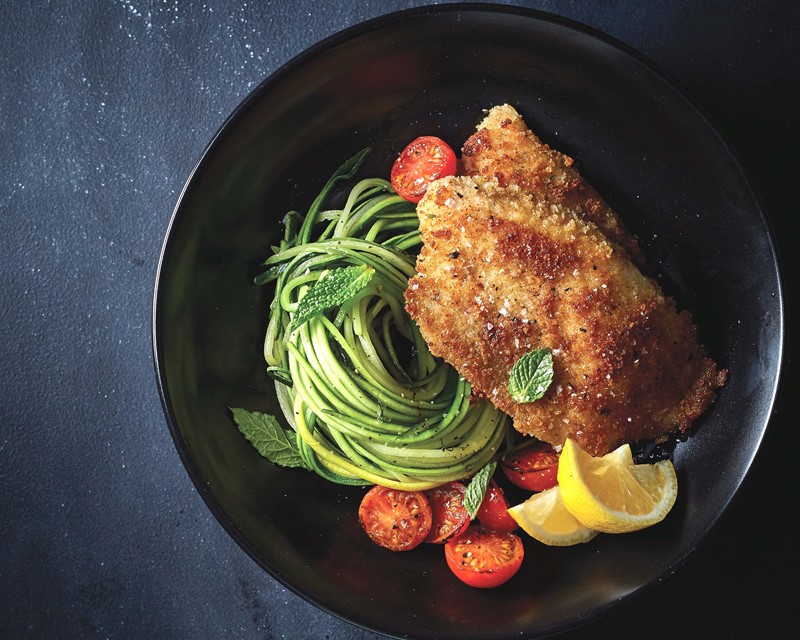 Description
Tilapia is a firm white flesh fish that has a mild flavor making it perfect for breading, marinating, grilling, or baking. How do we make it taste really, really good? We've breaded it in potato chips, topped it with salsa, and marinated it just before grilling. Ya know, just to name a few. 
Pecan and Parmesan Crusted Tilapia

Want to make your tilapia more flavorful? Add pecans and Parmesan cheese.

Tilapia Taco Salad with Dill Pickle and Caper Cream

Everything's in the name! It's a taco salad made with a briny and creamy dill pickle and caper dressing.

Blackened Tilapia Burgers

Craving Cajun flavor? Try these blackened tilapia burgers topped with sweet mango, crunchy cucumbers, and creamy coleslaw. Yummm.

Dilly Chip Oven-Fried Fish

This recipe is like fish and chips ... but better! Crush dill pickle-flavored potato chips and use them to crust tilapia fillets. 

Breaded Tilapia with Zucchini Noodles

A one-skillet wonder. We love recipes that don't fill up the sink with dishes. 

BBQ Tilapia Sandwiches

Make your own BBQ fish fillet sandwiches using tilapia brushed with tartar sauce and coated with crushed potato chips.

Salsa-Topped Tilapia

We can't get enough cilantro rice to go with this fresh-tasting tilapia dinner. 

Sweet and Tangy Tilapia Fish Sandwich

Skip the drive-through and make your own crispy-fried fish sandwiches coated with salt and vinegar chips at home.

Easy Baked Tilapia

Master this simple recipe and your fish can never be wrong again. 

Pan-Seared Tilapia Tacos

Take these fish tacos over-the-top with an Adobo rub and by topping them with homemade pickled veggies.

Italian Tilapia Sandwiches

Switch up your fish fillet sandwiches by coating tilapia in panko bread crumbs and grated Parmesan cheese. 

Sheet Pan Tilapia

Dinner is served... on one sheet pan, that is. Place seasoned tilapia fillets on a sheet pan and surround with fresh green beans and cherry tomatoes for a meal that is ready in under 30 minutes.

Sweet and Sour Tilapia

Who needs Asian takeout when you can make your own crispy tilapia stir-fry in a sweet and sour sauce?

Mole Tilapia Tostadas

Marinate the tilapia in a combination of cinnamon, ancho chile powder, and cocoa to give these charred tostadas an extra depth of flavor.

Rainforest Tilapia Burrito Bowls

Delicious, flaky tilapia is so versatile. Just a little citrus and herbs is all you need.