Food Love
14 Ultimate Hamburgers Made With Hy-Vee Ready-To-Grill Burgers
Primary Media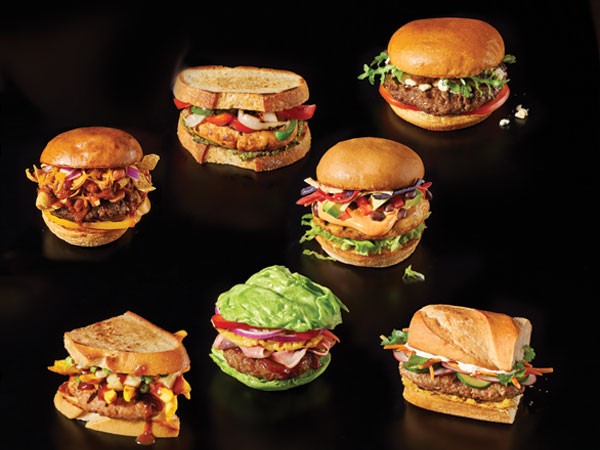 Description
Your Hy-Vee Meat Department offers amazing burgers made with top-quality ingredients that you don't have to prep—just grill! From basic to unique flavor combinations, you'll find burger options to suit every taste.
Buffalo Bacon Blue Burger

Enjoy better burgers when you use Hy-Vee's gourmet burger mignon patties topped with blue cheese crumbles and bacon. Did we mention it's topped with buffalo sauce?

BLT Burger

Grill a beer bratwurst burger and spread a ciabatta bun with parmesan-lemon mayo. Top with crisp-cooked Hy-Vee bacon, iceberg lettuce, and tomato slices.

Pizza Burger

Grill a fresh beef burger. Spread Hy-Vee pizza sauce on a Hy-Vee Bakery pretzel bun; top with fresh mozzarella cheese slices, pepperoni slices, and fresh basil leaves. 

Asian Salmon Burger

Grill a classic salmon burger. Combine mayo and ginger paste; spread on a Hy-Vee Bakery sesame bun. Top with broccoli slaw, shredded red cabbage, and tomato slices.

Loaded Chili Burger

Grill a jalapeno pepper Jack burger. Spread canned chili on a Hy-Vee Hy-Waiian burger bun. Top with Fritos corn chips, Hy-Vee shredded Cheddar cheese, chopped red onion, and yellow bell pepper slices.

Poutine Burger

Grill a ground pork burger. Spread garlic butter on Hy-Vee Bakery Sourdough bread slices; toast. Top with crisp French fries, Hy-Vee brown gravy, fresh cheese curds, and sliced green onions.

French Onion Swiss Burger

Achieving a flavorful burger is easy with this recipe, thanks to Hy-Vee gourmet French onion Swiss hamburger patties, Swiss cheese, and Stonewall roasted garlic onion jam.

Italian Burger

Grill a Hy-Vee-exclusive Cowgirl Chicken Griller burger. Spread Gustare Vita basil pesto on Hy-Vee Toscano bread slices; toasted. Top with Hy-Vee Short Cuts peppers and onions; grilled.

Boursin and Prosciutto Burger

Did you know that prosciutto spread is a thing? And that you should definitely be adding it to your burgers? Pair it with Boursin garlic and fine herbs cheese, focaccia bread, pesto aioli, and a Hy-Vee seasoned pub burger patty. 

Gluten-Free Hawaiian Burger

Grill a pineapple bratwurst burger. Spread gluten-free BBQ sauce or ketchup on lettuce buns. Top with thinly sliced Hy-Vee deli ham, pineapple slices; grilled, fresh red bell pepper slices and red onion.

Premium Steakburger

Southwest Burger

Bacon and Irish Cheddar IPA Burger

This burger has it all... IPA-infused whole grain mustard, bacon, brioche buns, Cheddar cheese, and Hy-Vee pub hamburger patties. 

Bahn Mi Burger

Grill a ground turkey burger. Combine mayo and lemongrass paste; spread on a quartered Hy-Vee Bakery French baguette. Top with seedless cucumber; sliced, pre-shredded carrots, radish slices, and fresh cilantro leaves.

Mushroom-Swiss Burger

This classic burger will take any grilling occasion to the next level. Layer sauteed mushrooms with caramelized onions, and charred red bell peppers on top of a Hy-Vee Gourmet mushroom steakhouse burger. Did we mention it's all sandwiched between a Hy-Vee Bakery brioche bun?