Primary Media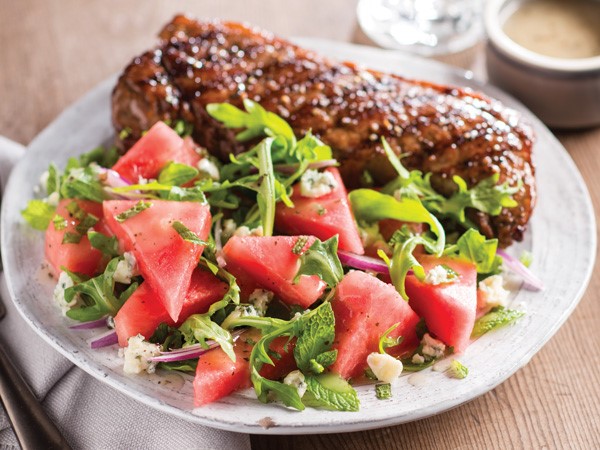 Description
Watermelon and savory in the same sentence? Yeah, you heard that right! We love watermelon, so why can't we create savory recipes you can enjoy as snacks, appetizers, main dishes, and sides?
Checkerboard Melon Salad

This impressive summer salad is filled with colorful melons and topped with feta cheese, red onions, and a homemade honey vinaigrette.

Watermelon-Arugula Salad with New York Strip Steaks

The cool, crisp melon chunks contrast perfectly with the savory charbroiled steak. Have this main dish ready in under 30 minutes!

Chicken with Grilled Watermelon Salsa

Watermelon salsa made with mixed fruit and jalapeno packs heat and juicy flavor, perfect for topping lightly seasoned chicken breasts. 

Grilled Watermelon with Caynne and Mango

Sweet meets heat, meets savory, meets sweet. This grilled watermelon recipe really has it goin' on!

Melon, Radish and Cucumber Salad

Sweet melon, zesty radishes, and refreshing cucumbers make them perfect combination in this fresh summertime salad.

Mexican Fruit Sticks with Lime Crema

Fresh mango and watermelon sticks with a fresh Mexican crema sauce is the summer side dish you've been dreaming about.

Watermelon and Heirloom Tomato Chicken Salad

This is what we mean by easy-breezy summer nights. Pick up a rotisserie chicken to pair with ripe heirloom tomatoes, crumbled cheese, and juicy watermelon. Dinner is done. 

Watermelon Salad

Fresh cucumbers and watermelon pair beautifully with salty Soiree feta cheese. Don't just take our word for it, try it yourself!

Watermelon Rind Pickles

Don't throw out your watermelon rinds! Use them to make crunchy waste-free pickles.

Grilled Citrus Watermelon

Add savory flavor to your watermelon by giving it a quick grill.

Avocado Melon Salsa

Sweet, juicy watermelon adds a refreshing twist to this lightly seasoned salsa. Enjoy it on chips or over grilled fish or chicken.

Grilled Salmon and Watermelon-Mango Salsa Wraps

Pair grilled salmon with a quick refreshing salsa; perfect for a hot summer's day.