Primary Media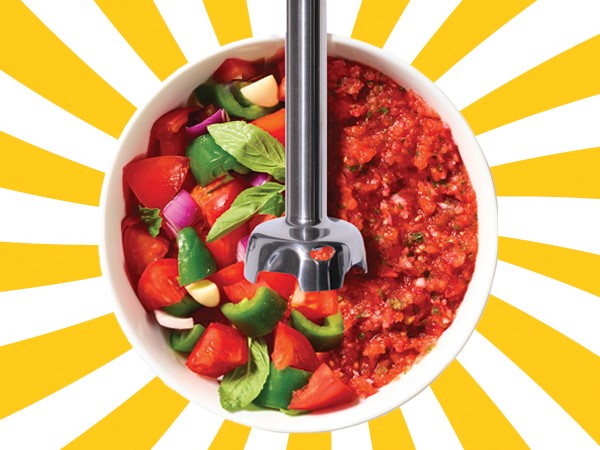 Description
Immersion blenders are mixing up the way people prep their food. And with the many convenient benefits they have to offer, it's no surprise. Also known as stick or hand blenders, they're available cordless, corded, with or without attachments, and in a variety of colors and powers. Our two current favorites are the Oster Immersion and Cuisinart Smart Stick.
Ready to begin your new kitchen adventure?
Blackberry-Hazelnut Smoothie

Immersion blenders make the puree process simple. You can puree your soup directly in the pot without transferring it to a blender! Think of the mess that will save.

They're also perfect for smoothies, like this one that features Wide Awake nondairy hazelnut coffee creamer. 

P.S. Speaking of coffee, you can use your immersion blender to make froth for cappuccinos and frappa-anything.

Strawberry Applesauce

These hand blender are so lightweight and compact, they won't take up valuable counter or drawer space. Just bust it out when you're feeling like a zesty, homemade Strawberry Applesauce.

Ginger-Peach Hummus

One of the best reasons to have an immersion blender on hand? It saves you so much clean-up time. Whisk or stir ingredients (even cookie dough) without using extra bowls or utensils. Even the tool itself is easy to wash. So there's really no reason NOT to make a healthy snack dip, like this Ginger-Peach Hummus.

Homegrown Tomato-Basil Salsa

There's a reason they're called stick blenders. They're so small, they'll fit into cups, jars, and pots with ease. You can make this salsa directly in the jar you'll store it in! 

Chili-Lime Refried Beans

Your hand blender can blend salad dressings in lidded jars for simple serving and storing. It makes creating a restaurant-worthy refried bean dish at home totally attainable.

Strawberry Whipped Cream

Whip eggs with ease for uniformly blended yolks. You can also whip up some easy Strawberry Whipped Cream. No tired, overworked arms here!

Watermelon-Basil Coolers

Did you know immersion blenders can even crush ice cubes for slushies and cocktails? And they'd be perfect for this watermelon cocktail, which purees this drink directly inside a watermelon half.

Jalapeno Dipping Sauce

For delicate sauces that can be tricky to prepare like this Jalapeno Dipping Sauce, your immersion blender will be your life saver—they emulsify with ease.