Primary Media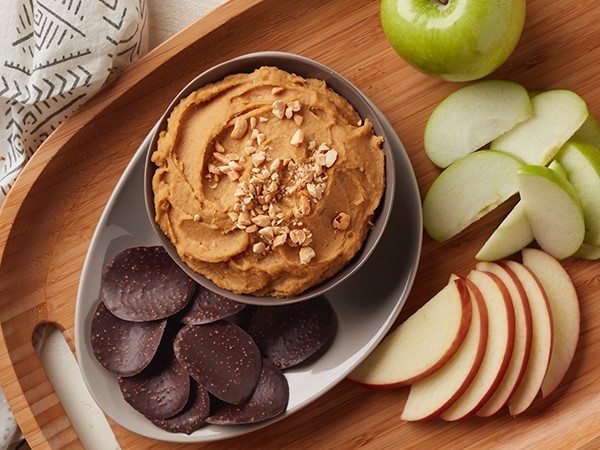 Description
Learn what healthy snacks are available at Hy-Vee and how to make your own version at home. Here we'll share a few of our favorite grab-and-go healthy snacks as well as recipes if you want to make your own version at home.
Hungry yet? Place your order for curbside pickup or delivery using Aisles Online.
Crackers & Hummus

Look for snack-size Sabra hummus containers for dipping crackers—Whole Grain Sundried Tomato & Basil Wheat Thins are a tasty choice.

Or whip up your own batch of hummus for dipping pretzels or vegetables.

Mixed Nuts

Pick up your favorite combo of mixed nuts or buy them individually and mix your own. The mix in dark chocolate chips and dried fruit to create your own signature trail mix. While this combo offers a good source of healthy fats, fiber, and antioxidants, it's important to remember a serving size is about 1/4 cup.

Or try our favorite recipe for snack mix, Five-Spice Snack Mix.

Pretzels & String Cheese

Mixing carbs (pretzels) with protein and some fat (string cheese) helps prevent blood sugar spikes while satisfying hunger and delivering nutrients such as calcium and protein from the cheese.

We also love to use string cheese to make these baked Cheese Poppers.

Deli Pinwheels

Swing by the deli for your favorite lunch meat and cheese. These simple pinwheels are made with deli meat, cheese, and light mayo on a spinach tortilla. Just roll and slice.

Or, follow our recipe for Turkey Stuffed Pinwheels.

Popcorn

Popcorn is an excellent whole grain and low calorie snack (as long as it's not dripping with butter.) We like the Skinny Pop popcorn from the snack aisle.

But you can also make your own seasoned and low-cal popcorn with our recipe for Parmesan Dill Popcorn.

Apples & Peanut Butter

This satisfying combination pairs two nutrients that help you feel full for longer: fiber (from the apples) and fat (from the peanut butter).

If you like that combo, you might also like our recipe for Peanut Butter Hummus—perfect for dipping apples and other fruit.

Chocolate Chip Energy Bites

For a pre- or post-workout snack, these delicious bites not only hold you over until your next meal, they can also help power you through a workout or help you recover. Look for them pre-packaged near the HealthMarket department.

Or, make your own using our recipe for Candy-Coated Energy Balls.

Fruit & Greek Yogurt

Keep things extra simple (and extra healthy) by picking up Hy-Vee Short Cuts berries. They're washed and ready to eat and make a great topping for an on-the-go yogurt parfait.

Also try our recipe for a Blueberry-Apricot Yogurt Parfait.