Primary Media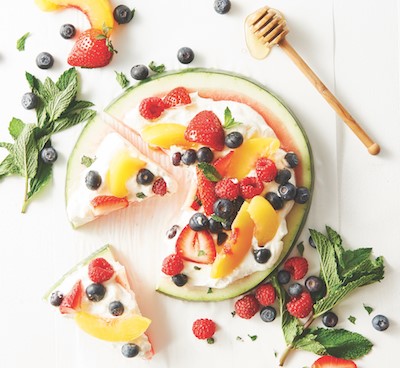 Description
A healthy snack contains a balance of carbohydrates, protein, fiber, and a small amount of healthy fat, in addition to important vitamins and minerals. In general, a piece of fruit paired with some protein, such as almonds or nut butter, is always a good choice. But if you're looking for something a little more interesting, check out the recipes below.
Apple Snackwich

It's got protein, fiber, carbohydrates, and healthy fat—we wouldn't change a thing about this nutrient-rich snack.

Apricot Energy Balls

The beauty of this recipe is that you can change it however you like. Use any kind of chopped nuts, nut butter, or dried fruit. You can also use honey or maple syrup instead of the agave nectar.

Candy-Coated Energy Balls

This version of an energy ball has fewer ingredients but uses protein powder, which you can substitute with ground flaxseed.

KidsFit Berry Smoothie

This simple blend is only four ingredients, and you can use any kind of fruit and flavored yogurt you like. We like it for a post-practice snack.

Fruit Jellies

This 2-ingredient fruit snack is a great source of energy before practice. Try pairing it with a little bit of protein for sustained energy. A string cheese or some almonds would do the trick.

Sweet Potato Toast

Who knew you could put slices of sweet potatoes in the toaster? Just pick your toppings. We recommend the Mixed Berry, Appleicioous, or Banana-Granola versions for pre- and post-practices. 

Watermelon Fruit Pizza

To make this gorgeous snack even healthier, replace the whipped topping with extra vanilla yogurt.

Frozen Banana Pops

We used almonds and coconut as a topper, but the choice is yours for these pops—which we like for their protein, fiber, and carbohydrates.

Zucchini Muffins

Not just a great breakfast option, these tasty little muffins make a satisfying snack for before or after the big game.