Primary Media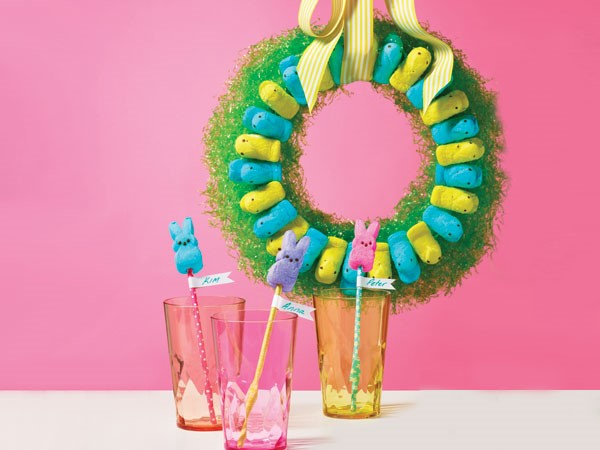 Description
Peeps ... listen up! It doesn't matter if you like them or hate them because we've got something for you! We've got recipes and super-cute Easter decorations that kids and adults will love.
Sushi Peeps

Prepare a 9x13-inch  pan of Gourmet Crispy Bars. Use a 1-1/2-inch round cookie cutter to cut bases for "sushi rolls." Or use a knife to cut rectangles for nigiri.

Nigiri (Fish on Rice): Cut heads from some Peeps candy chicks; set aside. Turn over bodies and snip about 1/4 of the way up with scissors to shape tails. Use frosting to attach to Crispy Bar rectangles. Drizzle with melted chocolate or add sprinkles. For Nigiri with heads: Attach Peeps chicks to rectangles with tinted frosting or apricot preserves. Wrap Fruit by the Foot sanck strips around Peeps chicks and tuck ends under Crispy Bars.

Seaweed-Rice Rolls: Wrap Fruit by the Foot snack strips around edge of sushi roll bases. Use a finger to make indentations in centers. Fill as desired. 

Garnish with green-tinted frosting fro "wasabi;" curl a Fruit by the Foot snack strip for "pickled ginger."

Chick S'Mores

Peep-ify your favorite campfire treat by using Peeps chick candies instead of marshmallows.

Peeps Wreath and Peep Pops

Peeps Wreath: Spray adhesive on front and sides of a 12-inch green floral-foam wreath form. Press green Easter grass onto adhesive. Insert a toothpick into the wreath for each Peeps figure, then push a Peeps candy onto each toothpick, alternating colors. Trim longer strands of grass. Loop ribbon around wreath to hang.

Peep Pops: Attach name tags to colorful drink straws to serve as place cards. Push the top of each straw through a Peeps candy and make it a pop.

Nest Egg

Press warm Gourmet Crispy Bars mixture into standard-size muffin cups; let set. Add green-tinted shredded coconut and candy eggs. Top with a Pepps candy chick.

Bunny Bouquet

Fill a small glass vase with water and pink gerbera daisies. Set vase in a larger clear vase, then stand pink Peeps candy bunnies in the space between the vases. Pop a few more Peeps candies on wooden skewers to tuck among the bouquet. 

Bunny Cup

Set a Peeps candy bunny in a chocolate pudding cup; add crushed Oreo cookies. Make carrots from jelly beans and pieces of green Sour Patch Kids candy. Push Twizzler candy ends into crushed cookies.