Primary Media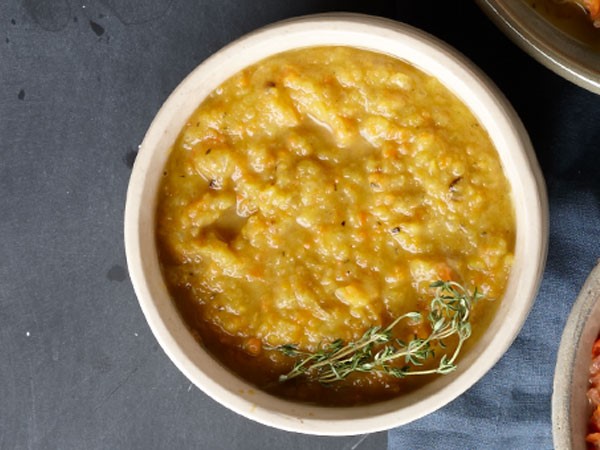 Description
February is Heart Health month. And let's face it, it's still more than chilly outside. What better way to warm up, and stay healthy, than with comforting soups and stews?
Each of these soups has 4 grams or less of saturated fat and 360 milligrams or less of sodium. 
Sheet Pan Roasted Red Pepper and Tomato Soup

Tomato and roasted red pepper soup: a classic winter recipe. What makes it even better? Only having 120 calories and 25 milligrams of sodium per serving.

Sheet Pan Carrot, Ginger, and Fennel Soup

The combination of carrot, ginger, and fennel creates a curry-like flavor. Plus, added fresh ginger has anti-inflammatory properties and is also known to soothe an upset stomach.

No-Chop Turkey Chili

No chopping required! Just use Hy-Vee Short Cuts, chopped beans, and canned tomatoes to make this tasty slow cooker chili. And, it only has 220 milligrams of sodium per serving.

Hass-Back Hustle Chili

Packed with corn, black beans, and lean ground beef, this heart-healthy chili is sure to have everyone hustling to the dinner table

Sheet Pan Acorn Squash and Turmeric Soup

This sheet pan soup (yes you heard that right) has two of our favorite winter produce items: acorn squash and carrots. Tossing the vegetables with ground turmeric not only adds a bright yellow color, but it's also full of healthy anti-inflammatory properties. 

Wagyu Beef Blitz Chili

Using no-salt-added diced tomatoes and beans helps keep the sodium down in this rich-flavored chili.

No Ifs, Ands, or Beans Chili

Beans not your thing? Then this chili is for you! Keeping the beans out of this chili recipe also helps keep the sodium to just 330 milligrams per serving.

Jalapeno Hot Route Chili

Another great way to keep calories and sodium down in recipes is by using spice. We used fresh jalapenos to create this spicy low-sodium chili. 

Spring Chicken Soup

Full of fresh veggies, lemons, and leafy greens, it doesn't need to be spring to enjoy this warm and tasty chicken soup.