Primary Media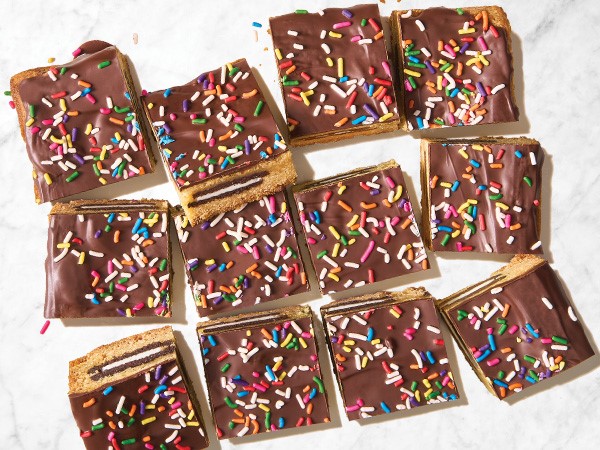 Description
Everyone knows when you show up with dessert, you automatically become the MVP of your tailgate. So, we're just going to leave this list right here.
Double Cookie Bars

Double up on sweetness with a batch of Double Cookie Bars. The sandwich cookie center and melted chocolate topping will make these bars a crowd favorite! 

Strawberry Oat Bars

With only 15 minutes of prep time, it's easy to get back to the game with a batch of Strawberry Oat Bars.

Sweet 'n' Salty Brownies

Sweet and salty flavors team up in these oh-so-delicious brownies.

Scotcharoo Brownies

A batch of Scotcharoo Brownies will disappear fast from your tailgate spread — be sure to grab one before they're gone! 

Pumpkin-Pecan Pie Bars

Each bite is filled with pumpkin, spice and everything nice (plus a pecan pie-inspired topping).

Crazy Good Cookie-Brownie Bars

Can we emphasize crazy good? These bars are layered with chocolate chip cookies, cream-filled sandwich cookies and topped with brownies.

Peanut Butter S'mores Crispy Rice Treats

Rice crispy bars are made even better with peanut butter, marshmallows and chocolate. We have one word to describe these crispy rice treats: YUM! 

Red Velvet Cheesecake Brownies

If you're looking for a dessert your fans will rave about long after the game is over, you'll want to add Red Velvet Cheesecake Brownies to your tailgate lineup.

Cereal Snack Bars

Need a quick and easy tailgate treat? These Cereal Snack Bars come together in a snap.

White Chocolate Macadamia Blonde Bars

When you have fans who don't love a ton of chocolate, bring this White Chocolate Macadamia Blonde Bars recipe off the sideline.