Primary Media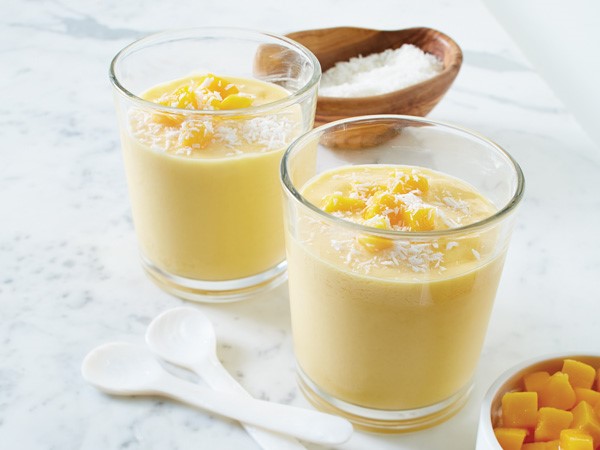 Description
Learn why these ingredients are the makings for healthier smoothies, and use this handy smoothie ratio guide to blend up a quick smoothie for one.
1/2 Cup Fresh or Frozen Fruit
1/3 Cup Yogurt
1/4 Cup Milk
1 Tablespoon of Seeds or Nut Butter
1/4 Cup Greens
1/4 Cup Oats or Cooked Whole Grains 
Greek Yogurt or Milk

Adding Greek yogurt or milk to a smoothie is a good way to bump up the protein, which helps you feel full for longer. It also makes smoothies thicker and creamier and generally more satisfying. 

Flaxseed, Chia, or Nut Butter

Adding some healthy fat will not only help your body absorb fat soluble vitamins, it also contributes to feelings of fullness. Ground flaxseed, chia, and peanut butter or almond butter are all great choices. 

Greens

Leafy greens are loaded with nutrients and also contain fiber. A smoothie that's high in fiber (about 5 grams or more) will help slow digestion and keep you feeling full. 

Whole Grains

It sounds strange, but try blending oats or cooked quinoa into your next smoothie. You'll get a thicker, more textured, and nutrient-packed beverage that will keep your tummy from rumbling all morning.

Fruit, but Especially Raspberries

Fruit is not just an excellent way to eat your vitamins and antioxidants, it also provides a lot of fiber. Raspberries in particular contain about 8 grams of fiber in one cup. Remember, the combination of protein, fiber, and a little bit of fat is the winning combo for staying full.

Optional: Protein Powder

If you decide to add protein powder to your smoothie, it's best to look for products that have been certified by a third-party quality assurance program, such as Consumer Lab, Informed-Sport, NSF, or USP. These labels mean that products have been tested to ensure the ingredients listed are accurate and contain no banned substances.